President's Counsel Wijeyadasa Rajapaksa was inducted as the President of the Bar Association of Sri Lanka (BASL) for 2012/2013, at the 38th annual convocation held yesterday at Hotel Taj Samudra, Colombo.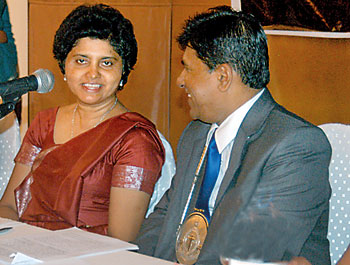 BASL chief Wijeyadasa Rajapakse and Chief Justice Shirani Bandaranayake at yesterday's convocation. Pic by Nilan Maligaspe.
Chief Justice Shirani Bandaranayake, addressing the gathering as chief guest said that though it's noteworthy to see young faces in the legal fraternity, it is saddening to receive complaints on a daily basis, over the conduct of some lawyers.
"Five Supreme Court judges are presently inquiring into allegations, and most of these are from the public, with some even possessing sufficient material to prove such conduct," she said. Chief Justice Bandaranayake suggested that the BASL commence awareness programmes on professional ethics and code of conduct for young attorneys.
She also requested lawyers to assist judges in clearing the backlog of cases and to avoid such backlogs. The newly inducted President, Wijeyadasa Rajapakse, addressing the gathering, said there has been a sharp decline in the quality of the profession in the recent past, due to a variety of reasons, including the failure to adhere to morals and ethics, and also to resorting to touting, and thereby, incurring the displeasure of, and evoking criticism from society.
"Now the country is faced with serious problems affecting our sovereignty. In this scenario, we are obliged to perform our duties to rescue the country from malefic influences and uncalled for interferences, while reminding whoever the powers-that-be, of their duty to ensure the upholding of the rule of justice," he said.
He said that, with the sharp increase of attorneys absorbed into the profession, annually, it is necessary to explore new avenues and revise law examination syllabuses for the new recruits, to provide them greater career opportunities.
Justice Minister Rauff Hakeem said that, to have Mr. Rajapakse, better known as the champion in good governance, is a source of pride to members of the BASL. Court of Appeal President Justice S. Sriskandharajah, Attorney General Eva Wanasundara and Solicitor General Palitha Fernando were also present at the ceremony.
The new Secretary and Treasurer of the BASL, for 2012-2013 are, Sanajaya Senanayake and Rasika Dissanayake, respectively.