The Government yesterday introduced a mini-budget, raising taxes on vehicle imports, cigarettes and alcohol. The move will have immediate implications with vehicle prices going up by amounts ranging from Rs. 300,000 to Rs. five million, hard-liquor by Rs. 60 a litre, imported beer by Rs. 50 a litre and local cigarettes by Rs. one.
The government said it was expecting to raise Rs. 3 billion from the tax on tobacco and liquor.
However the tax on vehicle imports was also aimed at curtailing the imports and improving on foreign reserves by preventing the outflow of foreign exchange.
"We have too many vehicles on the roads with an average of 3,000 vehicles being registered a day. This is a burden on the country. Our oil import bill too has increased," Deputy Economic Development Minister Lakshman Yapa Abeywardena said.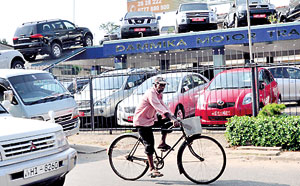 Sharp increase in vehicle prices
"The tax will help reduce our fuel import bill and protect foreign reserves," he said. The taxes on the import of vehicle spare parts and body-parts were also increased yesterday.
According to the revised rates, the tax on a petrol car below 1000 cc engine capacity has been increased by 80 per cent, cars between 1000 cc and 1600 cc by 71 per cent, cars between 1600 to 2000 cc by 64 per cent, more than 2000 cc by 96 per cent and more than 3000 cc by 86 per cent.
For diesel cars the taxes have been increased by amounts ranging from 59 per cent to 70 per cent and petrol vans from 13 to 28 per cent. The tax on a modified petrol vehicle has been increased by 111 per cent.
On three-wheelers the tax increase ranges from 23 to 49 per cent and on motor cycles 39 per cent.
Vehicle Importers Association President Sampath Merinnage said that in addition to the new taxes imposed, the prices would also further move up due to the dollar rate increasing.
He said the price of a Maruti 800 cc would increase by a minimum of Rs. 300,000, while the price of a new Hybrid would increase by Rs. 1 million. He said the price of a Toyota Allion would go up by Rs. 1.5 million and a Toyota Vitz by Rs. 1.2 million. The price of a van would increase by about Rs 400,000.
The price of a three-wheeler is likely to increase by Rs. 100,000 and a motorcycle by Rs. 50,000.
Meanwhile, the Central Bank on Friday said the foreign exchange inflows continued to remain healthy during the past few weeks. Reflecting this trend, the exchange rate appreciated to around Rs. 128 a US dollar on Friday from around Rs. 130 a week ago.
Restrictions on reconditioned vehicles
The import of reconditioned vehicles was restricted yesterday with the government saying it would only allow the import of such vehicles which were manufactured less than one year ago. Earlier reconditioned vehicles which were manufactured three and a half years ago were allowed to be imported.