A tiny shrub frog that was first spotted and identified 100 years ago was rediscovered in 2005 by two Sri Lankans.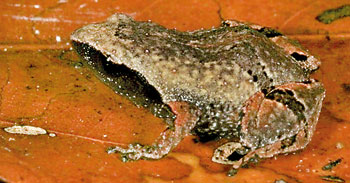 The Tiny-Red Shrub-Frog – Pseudophilautus semiruber
The Tiny-Red Shrub-Frog – Pseudophilautus semiruber – is one of the smallest frog species in the world. Out of a total of 5,000 plus species of frogs in the world, only 46 species are 15 millimetres in length and under. These diminutive species are so small they can comfortably rest on the tip of your small finger. This is the third such species found in Sri Lanka; the others are Pseudophilautus simba and Pseudophilautus tanu.
In 1911, a scientist named N. Annandale found a 12mm frog in Pattipola, at an elevation of 1,850 metres above sea level. The creature, of undetermined sex, was formally described in 1913, using this single specimen. The tiny creature remained elusive for the next 95 years. In 2005, Dr. Madhava Meegaskumbura of the University of Peradeniya and Mohamed Bahir found a single female in wet leaf litter in a misty montane forest near the Horton Plains National Park.
The rediscovery was announced and a new description given in the March 2012 issue of the journal ZOOTAXA. The tiny red frog is at the edge of extinction. Sri Lanka has been described as an "amphibian hotspot". Many species new to science have been found in Sri Lanka; meanwhile, 21 species have become extinct.