The prevailing hot weather in the mornings followed by rain and thunder showers in the evenings will be the weather pattern for the next few weeks, according to the Meteorology Department Director S. H. Kariyawasam.
He said thunder storms that will develop in inland areas especially in the western and north western areas will gradually spread to the western coastal areas.
"People should take precautions to avoid any accidents due to lightning by keeping away from open spaces like playgrounds and paddy fields. They should also refrain from touching any metal objects and also unplug electronic devices in the households," Mr. Kariyawasam said.
He said in addition warm conditions prevail during the daytime but can fluctuate depending on the wind, with cool conditions being experienced after a rainy day and scorching temperatures on some days.
Meanwhile, a cross section of the public who seemed drained out by the extreme heat, commented on the warm and uncomfortable conditions.
"The heat is unbearable. Even a fan has little effect and travelling during the day especially if you don't have your own vehicle is quite exhausting," Dhammika Priyadharshani of Borella said.
Thrisha Nadeera, a grade 10 student from Dematagoda said she suffers constant headache because of the heat and scorching sun and by the time she gets home after school she is so exhausted and has barely any strength left in her.
Leelawathi, a street sweeper on the Borella route said it was tiring to work in this heat and she was developing skin infections due to excessive perspiration.
Meanwhile S. Mohideen a retail seller in Pettah complained that doing business on the pavement under the scorching sun was exhausting. "We were promised boutique spaces, but nothing has been done," he said.
However, A. S. Madushan, a king coconut seller in Pettah is a happy man since the heat is favourable for his business. He said his sales had increased from 200- 300 king coconuts a day to 500.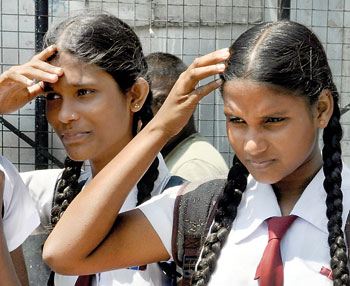 Thrisha Nadeera (left) suffering from constant headaches due to the scorching sun. Pix by Susantha Liyanawatte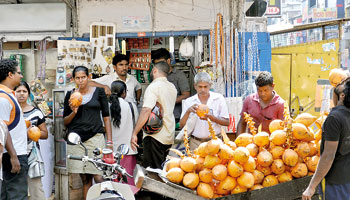 Cool off with a Thambili (King Coconut): A. S. Madushan is a happy man as his sales are up