New baby hippo exhibited at Dehiwala Zoo
The National Zoological gardens at Dehiwala over two month old baby Nile hippopotamus Milo is now exhibited at the hippo section.
The zoo which exhibits both Nil hippopotamus Hippopotamus amphibious) as well as the Pigmy Hippo (Choeropsis liberiensis). Zoo officials said that they have successfully bread both Nile and pigmy hippos at the zoo.
The Development officer at the National Zoological Gardens Shamal Samaranayake said that they named their new hippo calf on children's day
The name was picked out of a box into which children who visited the zoo that day had dropped suggestions, he added,
.He said that the Millo was birthed by their female hippo Nella and was sired by Male hippo Hubert which came to the zoo under animal exchange programe between zoos 2012.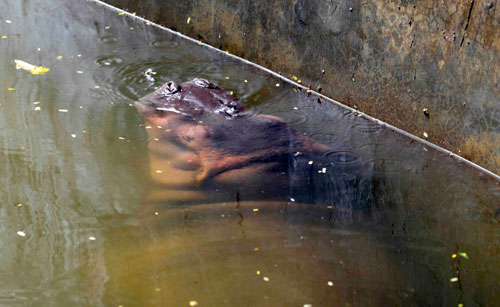 See full story at the Sunday Times Print Edition
Comments
Still No Comments Posted.