Gulf Binance granted digital asset operator licenses in Thailand
Gulf Binance Co., Ltd., ("Gulf Binance"), a joint venture between Binance and Gulf Innova Co., Ltd. ("Gulf") has been granted digital asset operator licenses by the Thailand Ministry of Finance through the Securities and Exchange Commission ("SEC") in Thailand. Gulf Binance was established following a 2022 agreement between the two organizations to set up a digital asset exchange in Thailand. Having secured these licenses, Gulf Binance will be able to operate as a digital asset exchange and digital asset broker and is set to launch in Thailand in the fourth quarter of 2023.
Since entering the agreement, Binance and Gulf have been working closely with regulators to ensure the formation of a compliant-first exchange, and the newly granted licenses demonstrate Gulf Binance's commitment to operating within the regulatory framework.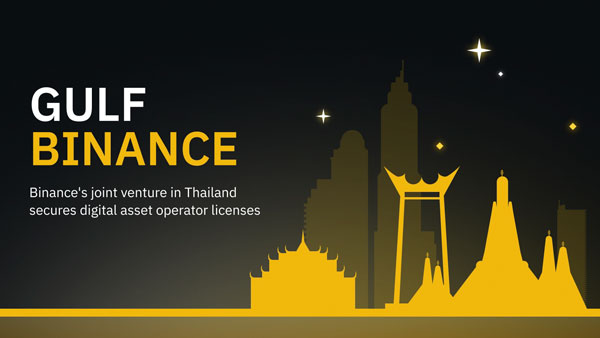 The joint venture brings together Binance's unparalleled resources and wealth of expertise in the digital asset space with Gulf's established presence and industry knowledge in Thailand. By partnering together, Binance and Gulf aim to drive innovation, foster growth, and deliver exceptional value to Thai users in the digital asset ecosystem. More details on the new digital asset business will be available closer to the launch date in Q4 2023.
Richard Teng, Binance's Regional Head of Asia, Europe and MENA, said: "We are grateful and honored to be granted the digital asset operator licenses for Gulf Binance in Thailand — a country with a thriving crypto space that has demonstrated strong commitment in embracing blockchain technology. By harnessing Binance's expertise together with Gulf's established local presence and network, Gulf Binance aims to showcase the full potential of blockchain technology to meet the needs of Thai users. Local users can expect access to a trusted and regulated service that prioritizes user security alongside compliance with local regulations."
Comments
Still No Comments Posted.