Rajarata University's Omega-3-added products for local and world markets
One of the main criticisms aimed at the Sri Lankan State Universities and its degree programmes is the external validity of certain degree programmes and the quality of the graduates graduated by the state universities. While this is not a dispute, there are ample evidence to prove the significant contribution of state Universities to the development of different sectors including health, medicine, engineering, business management, information technology, arts, etc. In this backdrop the Rajarata University of Sri Lanka is proud to announce one of its' latest research outcomes conducted under the AHEAD/RA3/RIC/RJT/Omega which developed fish oil fortified foods to deliver Omega-3 using techniques like microencapsulation. Further a novel fish oil purification method was developed to enhance the quality parameters in fish oil to minimize heavy metals and other contaminants and to concentrate the Omega-3 fatty acids.
Clinical and epidemiological studies have demonstrated that most so-called lifestyle diseases such as diabetes, coronary heart diseases, and cancers are caused due to common dietary errors. Many scientific researches have proved that the acceptable limit of Poly Unsaturated Fatty Acids (PUFAs) gives significant health benefits and protection against inflammations and chronic diseases. Among the PUFAs Omega-3 fatty acids are considered to be the most effective in preventing those diseases.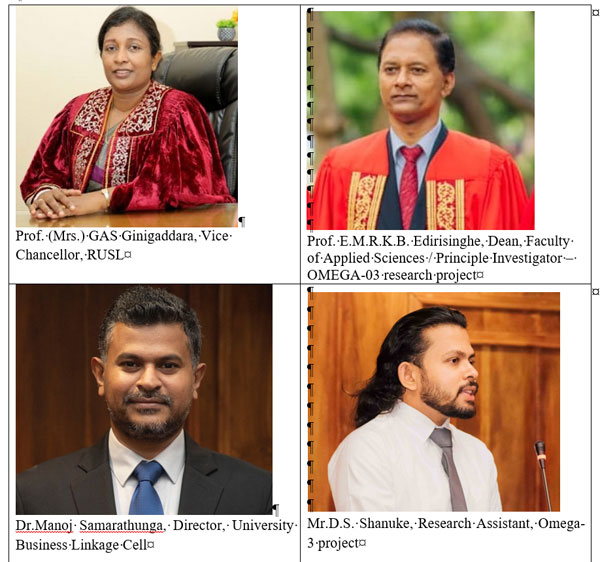 Recent studies have proved a number of advantages in using Omega-3 fatty acids that reduce different types of diseases including reduction of occurrance of cardio vascular diseases, cancers and type II diabetes. Moreover, Omega-3 FAs are important in reducing risk effects on rheumatoid arthritis, neuropsychiatric diseases, obesity and increasing vision and cognition abilities as well as brain and neural development. Further scientists have also proven that Omega 3 helps with aging and maintaining healthy skin as well.
In addition to that, many epidemiological studies have revealed the importance of intake Omega-3 FA to improve the maternal and child health. Adequate consumption of Omega-3 during the pregnancy period is important as they are essential in fetal developments and inclusive of preventing perinatal depression.
Dietary recommendations from national and international bodies for Omega-3 fatty acids especially for EPA and DHA range from 40 - 250 mg per day for infants older than six months, children and adolescents and the Omega-3 requirements for adults per day rage from 200 - 600 mg. Since DHA significantly contributes to the brain, neural and vision development, specific recommendations have been made for infants and young children (6 to 24 months of age) ranging from 70-100 mg per day. It's obvious that people should consume Omega-3 along with the diet. Fish and other aquatic foods, Fish oil are considered to be the most ideal source of Omega-3 as they contain higher amount of Omega-3 including EPA and DHA compared to other plant and animal food sources.
Research conducted in Sri Lanka regarding the correlation of fish consumption and the Omega-3 index in health status of people has been identified that vegetarians recorded lower Omega-3 index value compared to people who consume fish. A recent survey indicated that Sri Lankan people have generally less interest in fish oil dietary supplements. According to the report only 10% of people use fish oil dietary supplements and 85% of them are between 20-30 age limits. It could be mainly due to the low awareness of the importance of Omega-3 and less preference to use fish oil as a daily supplement.
With the current economic status of Sri Lanka, the rate of overall food consumption has fallen down, which also leads to reduce nutrition levels. The majority of the population has the difficulty in adding Omega-3 fatty acid to the dietary plans as supplements. Therefore, Omega-3 fortified food items are a way to address this issue.
A research team from Faculty of Applied Sciences, Rajarata University of Sri Lanka, with the financial support of Accelerating Higher Education Expansion and Development (AHEAD) project, has carried out a research to promote the health benefits of people by enhancing the Omega-3 consumption. The research team has fortified some common foods with fish oil in order to popularize Omega-3 consumption in Sri Lankan community. The food products have been developed through a series of laboratory experimental procedures conducted at the Department of Chemical Science attached to the Faculty of Applied Sciences, Rajarata University of Sri Lanka.
Two leading commercial entities in Sri Lanka have joint in hands with the Rajarata University of Sri Lanka through the Business Linkage Cell to commercially produce and commercialize the Omega-3 added food items.
University Business Linkage Cell (UBLC) / Technology Transfer Office of Rajarata University of Sri Lanka is the front door for corporations, directing business to the right resources at the University while linking potential researchers in the University to the industry for commercialization. UBLC was established under 10/2016 Circular. Several License Agreements and Memorandum of Understanding (Mou) between Rajarata University and those two companies were signed recently. The nutrient profiles of foods were analyzed by an internationally recognized independent laboratory in Sri Lanka. The University believes that these food products will support to enhance the Omega-3 consumption among the Sri Lankan community which will lead to a healthy nation.
The research team was led by Professor E.M.R.K.B. Edirisinghe, the Dean, Faculty of Applied Sciences with the collaboration of other academic members and research assistants (RA's) of the Faculty including Professor S. Hettiarachchi, Dr. (Mrs.) S. A. Seneviratne, Dr. L. Senarathna, Mr.D.S. Shanuke (RA) and Mr. J.A.K.S. Jayakodi (RA). Prof. R.A.U.J. Marapana from University of Sri Jayewardenepura also joined with this project. The Director of University Business Linkage Cell Dr.Manoj Samarathunga and his team carried out the commercialization part of the project under the guidance of the Vice Chancellor of Rajarata University of Sri Lanka Professor (Mrs.) G.A.S. Ginigaddara. The University Business Linkage Cell has many more products which are ready to commercialize including cosmetics, value added food items, cattle feed, equipment and machinery. Interested investors can reach the University Business Linkage Cell through ruslublc@gmail.com or 0252266269.
Dr.Manoj Samarathunga
Director
University Business Linkage Cell
Rajarata University of Sri Lanka
Comments
Still No Comments Posted.