Daraz Carol Bus gears up to spread Christmas cheer across Colombo and suburbs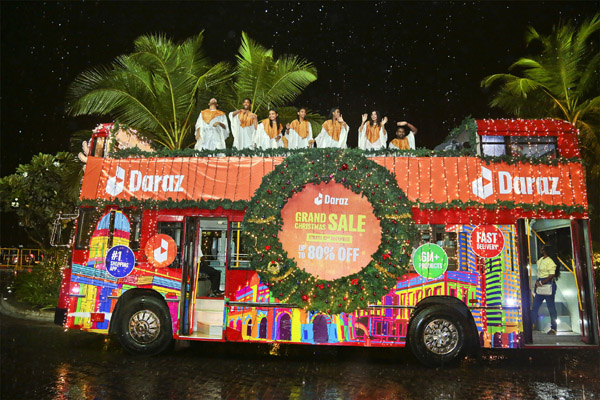 Adding to a merrier Christmas experience, Daraz, the leading e-commerce platform in Sri Lanka, is travelling across Colombo in a brightly lit, open double-decker bus with a choir singing Christmas Carols, placing smiles on the faces of bystanders in the streets of Colombo.
As a part of its commitment to boost Sri Lanka's economy while giving back to the community, particularly during this season of festivities and celebration, Daraz Carol Bus will take the streets every weekend evening, singing Christmas tunes, greeting holiday shoppers at various places in the city and sharing gifts from Santa Claus, adding to the magic of the season. The event is particularly expected to help promote tourism in Sri Lanka while stimulating investment and economic development, the company said in a media release.
Enabling residents and visitors in Colombo, Negombo, Wattala and other suburbs to join in on the Christmas cheer, Daraz Carol Bus will tour the province from 2nd December to 19th December while the carolling group will perform live at One Galle Face mall on selected days.
Founded in 2015, Daraz is South Asia's leading e-commerce platform in Pakistan, Bangladesh, Sri Lanka, Nepal and Myanmar. It empowers more than 200,000 active sellers with world-class marketplace technology to reach the fast-growing consumer class in a region of 500 million people.
Comments
Still No Comments Posted.