Daraz/SLASSCOM research report on e-commerce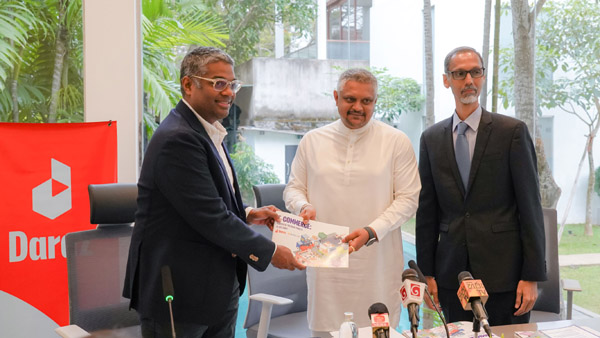 Photo: Seen here is the research report on e-commerce adoption and usage in Sri Lanka being presented to the State Minister of Technology Kanaka Herath by Managing Director Daraz Sri Lanka, Rakhil Fernando (left) with the Chairperson of SLASSCOM Ashique Ali (right).
Daraz Sri Lanka and Sri Lanka Association for Software Services Companies (SLASSCOM) released the first in-depth study on the adoption and use of e-commerce in Sri Lanka during difficult economic times at a roundtable discussion held in Colombo on Monday January 30.
The report titled "E-commerce: A Driver of Inclusive Growth in Sri Lanka?" was presented to and discussed with the State Minister of Technology, Kanaka Herath, in the presence of key report contributors, according to a Daraz media release.
This report is the result of a partnership between Daraz Sri Lanka and the SLASSCOM and aims to bridge crucial data gaps in the e-commerce industry, while also pointing to essential policy needs.
Dr Ganeshan Wignaraja, a Professorial Fellow in Economics and Trade at Gateway House, Mumbai and a Senior Research Associate at ODI Global, London, designed and co-authored the report together with Ms Anishka De Zylva, Head of Public Policy and Corporate Affairs at Daraz Sri Lanka. The survey was conducted by NielsenIQ Sri Lanka, under the supervision of Ms. Therica Miyanadeniya, Country Director of NielsonIQ Sri Lanka.
Commenting on the report, Dr Ganeshan Wignaraja opined, "An expanding digital economy and the e-commerce sector are supportive of the economy's shift from crisis to recovery in Sri Lanka's 75th anniversary of independence. The first report on the sector aims to facilitate discussion of a market-friendly business environment by identifying micro-level dynamics of the e-commerce industry in Sri Lanka."
The report is based on the collection of primary data through an islandwide survey of a sample population of more than 4,500 participants undertaken between March 2022 and July 2022. The survey collected information in areas that are relevant to making business strategies and public policies covering the:
(i) the use of e-commerce across provinces and districts;
(ii) the types of goods and services purchased;
(iii) purchasing behaviour during the pandemic;
(iv) user behaviour by characteristics;
(v) the types of devices and payment methods used for e-commerce purchases;
(vi) factors discouraging online purchasing;
(vii) the use of e-commerce for selling goods and services; and
(vii) the influence of government policy on e-commerce transactions from both a seller and consumer perspective.
Rakhil Fernando, Managing Director of Daraz Sri Lanka further added: "E-commerce is still a relatively new industry in Sri Lanka. However, one of the main findings of this research is that e-commerce is already an islandwide phenomenon, and it is widely used for purchasing goods and services. Over 50 per cent of the survey respondents in all provinces said they use e-commerce to purchase goods and services, and provinces close to and further away from the Western Province are not lagging in terms of e-commerce adoption. This is a strong indicator that e-commerce will play a catalytic role in advancing retail trade in Sri Lanka, despite the challenging landscape."
Ashique M. Ali, Chairperson of SLASSCOM, said, "The accelerated growth of e-commerce has transformed the way businesses operate in the post-pandemic world. This e-commerce research report provides a baseline for steering the expansion of the e-commerce sector amidst common challenges such as a lack of knowledge on e-commerce and low levels of trust in digital payment methods."
The report will be made available as a downloadable pdf file on the Daraz and SLASSCOM corporate websites to anyone interested in understanding the industry at a deeper level.
Comments
Still No Comments Posted.