Three cases of triple murders – all nine killings committed in a space of 10 days – have heightened public concerns about the country's fast rising crime rate. The murders were reported from Nuwara Eliya, Horana and Dehiwala.
In the first case, the bodies of a 65-year-old woman and her two granddaughters, aged 28 and 10, were found inside a locked house on June 29. The victims were residents of Pattipola, a village bordering the Nuwara Eliya-Badulla district, close to the Horton Plains. A three-year-old family member, Rohitha Bandara, is missing.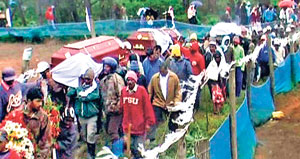 Pattipola residents attend the funeral of three family members murdered last week. The victims are a 65-year-old woman and her two granddaughters. Picture at right shows the younger daughter with her brother Roshan, who is missing.
The bodies were found by the husband of the 28-year-old victim, Mallika Herath. According to the police, Mallika's husband, a farmer working in Dhehiattakandiya, would visit his family once a month.
On June 24, he called home and spoke to his mother-in-law. He called again on June 28, but no one answered the telephone.
The farmer then headed straight home, to find the house locked. He made inquiries from neighbours and spent the night at the home of a relative. The next day he broke into his own house, to find the bodies of his wife, his sister-in-law and mother-in-law inside a locked room.
Police investigations continue, led by Nanu Oya OIC Sudath Walpola, under the directions of Nuwara Eliya SP Gamini Mathurata and ASP Dhammika Weerasekara. The police have still not been able to trace the farmer's three year old son.
The funerals of the three family members were held early this week, in Pattipola. The second case of a triple murder occurred last week in Ganewatta, Horana. Three members of a family – R. P. Nimalsiri, 55, Shirya Malkanthi, 50, and R. P. Inoka, 21 – were found dead, with their necks slashed.
According to the police, the main suspect, Sajith Manoj, was later found murdered, also with his neck slashed. Manoj was charged with the alleged rape six years ago of Inoka, who was 15 years at the time.
The judgment in the rape case was to be delivered this week.
Manoj had gone missing shortly after the incident, and the police had launched a search for the suspect.
Last week, in another case of triple murder, which occurred in Dehiwala, a policeman shot dead his wife and her parents. The policeman is in hospital, being treated for self-inflicted gunshot wounds.