Two persons – party workers for the political group, the National Freedom Front (NFF), and close associates of the newly appointed Minister of Tourism, Nandana Gunatilleke – have been taken into custody in connection with the brutal slaying of a young barber at Kudiligama, in the Matugama police area.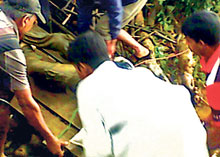 Body of 25-year-old victim recovered from the Kalu Ganga.
The two suspects are alleged to have shaved the victim and mutilated his face before dumping the corpse in the Kalu Ganga, according to a senior policeman in the area.
According to sources, the 25-year-old barber was allegedly conducing a clandestine affair with the daughter of the chief suspect. Police say the killing occurred on June 20. The victim's body was recovered from the Kalu Ganga at Galpatha yesterday.
Following the killing, angry villagers torched a house and a van that was being used by the two suspects.
It is understood that the house, which the suspects had shared as living quarters, served as the NFF's main party propaganda office. The NFF is a breakaway group of the mainstream Janatha Vimukthi Perumana (JVP). Party activists and leaders were regular visitors at the house.
Police sources describe the two suspects as "hardcore underworld elements" who have been operating under political protection and patronage. They are believed to be responsible for pre-polls violence and intimidation at the recent Western Provincial Council elections.
It is understood that the victim's lover, who is three months pregnant, is now in a charity home run by the Salvation Army.
The arrests were made by the Matugama Police, headed by HQI Pragathi Abeysinghe and assisted by Crimes OIC, P. D. K. Rodrigo.