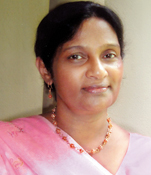 Artist Kusum Mangalika
Picture story writer and artist Kusum Mangalika's maiden paintings and painted pottery exhibition will be held from 3 pm on Friday August 29 at Lionel Wendt, Colombo.
Organised by National Picture Story Writers Foundation, exhibition will be opened by Rear Admiral Satha Weerasekara, the chief guest and it will be held on August 30 and 31 from 9 am to 7 pm.
Born in Meewathura, Peradeniya Kusum studied at Sri Rahula College, Katugastota and she showed special talent in arts and painting. Later she stared pottery painting and fabric painting on the instruction of her arts teacher Ms. E. K. Abeyratne as a hobby.
An ardent reader of picture stories, Kusum got interested in writing picture stories and joined Multifax Company and drew picture stories and cover pages for its publications 'Swarna' and 'Suhada'. Later she also drew covers for children newspapers and over the last 30 years she had worked for Multifax company, Camilus Publication and Sumathi Newspaper company.
She had designed covers for books of leading writers Martin Wickremasinghe, Kulasena Fonseka, Denagama Siriwardena, Sarath Wijesuriya, Thalangama Premadasa and many childrens' story books.