The series of stage dramas "Sihina Rangahala"(Theater of Dreams) written and directed by talented playwright Dananjaya Karunaratne will be staged at 3.30 p.m. and 6.45 p.m. on August 30 at Elphinstone Theatre Colombo.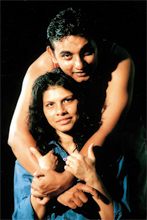 Chamila Peiris and Sanath Wimalasiri in a scene in 'Oba Sapekshai'
Dhananjaya an experimental playwright handles various social issues through five short plays 'Valentine Enakan' starring Chandani Seneviratne and Susith Nishantha, 'Last bus eke Kathawa' played by Saumya Liyanage, 'Chandrawathie Samage Rathriyak' played by Palitha Silva and Madini Malwaththa, 'Duwana un Dennek' starring Chamal Ranasinghe and Dimithu Chinthaka in Kaushalya Fernando and 'Oba Sapekshai' played by Chamila Peiris and Sanath Wimalasiri all award winners at the State and Youth drama festivals.
The collection 'Sihina Rangahala' discusses a number of issues and never ending problems like poverty, social disparity, narrow minded thinking and war that are existence in our society. Dhananjaya points out serious issues with mild satire and humour interestingly and enlighteningly.
The latest addition to the series was "Duwana Un Dennek" and it is a tragic-comedy influence by physical theater.
Music director for 'Sihina Rangahala' is Kapila Poogalaarachchi, lighting designer Wasantha Kumara, make-up artist Bhanu Prasanna and Kosala Thottawathgewill is the assistant director. Stage supervision by Sameera Nuwan and Sumeda Niroshan, stage arrangements and costumes by Dananjaya Karunaratne and Jude Shrimal is the organizer. 'Sihina Ragahala' sponsored by Sunethra Bandaranaike Foundation.
Dhananjaya has gained a bachelor degree in painting and sculpture at the Institute of Aesthetic Studies, University of Kelaniya and a master degree in theatre arts at the university of Wollongong, Australia.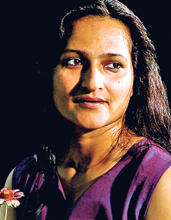 Chandani Seneviratne in 'Valantine Enakan'
In the last few years Dhananjaya has been involved with the Merrigong Theatre Company in Australia and he has been developing his own theatre concept named Theatre Against the Audience.
Currently Dhananjaya is working as a visiting lecturer in theatre arts at the University of Visual and the Performing Arts.
One of the plays in Sihina Rangahala, "Last Bus Eke Kathawa" has been translated in to English and been shown in many countries.
Over the past few years Dhanan has been experimenting in search of a more proactive and sensitive style of theatre. This series is a successful result of above experiment.
After a while the drama series is reproduced with the original cast since there is a grooving demand for Dhananjayas plays. New interpretation has been added to the plays.
One of the plays, 'Last Bus Eke Kathawa' has been translated in to English and been shown in many countries