Renowned young journalist and critic Nuwan Nayanajith Kumara's latest book "Gaddarilca Pravahaya Hevath Sukiri Batillanga Lokaya" (Undiscerning) will be launched at the BMICH (Hall A) on September 4 at 4pm. The event is organised by Pansilu Arts Circle and Sunil Aruna Weerasiri.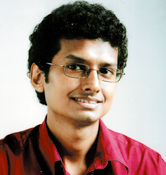 Nuwan Nayanajith Kumara
Dr. Praneeth Abayasundara, a senior lecturer of the University of Sri Jayawardenapura, will chair the event while veteran filmmaker Jayantha Chandrasiri and popular media personality Jackson Anthony will deliver speeches. Classical songs will be sung by veteran vocalists Nanda Malini, Jayantha Ratnayake, Lelum Ratnayake, Indika Upamali, Shashika Nisansala, Isuru Jayaratne, Iman Perera, Ranjan Saliya Perera, Harshana Dissanayake, Mangalika Tennekoon, Ayesha Samaradivakara and the Lionel Ranwala Troupe backed by Sahan Ranwala. A host of upcoming young vocalists will also take part at the event with the dance troupe trained by Dr. Ariyaratne Kaluarachchi of the University of Visual and Performing Arts. Representing two generations Indunil Dissanayake, Tharaka Wasalamudaliarachchi and Sandamali Hewanayake respectively will handle compeering and the script is by Wasantha Kumara Kobawaka.
1977 witnessed the emergence of open economy with new trends in mass communication. Nayanajith's work discusses the way the intellectual capacity of the young generation was affected by the new trends. It emphasises the need of creating a Sri Lankan identity in the globalisation process, overcoming the artificial waves of open economy. The book analyses how the Sri Lankan society abandoned the Theravada Buddhist tradition by embracing the Western way in an inappropriate manner. This work, in fact, is an in- depth study of the contemporary social set up.
The book, containing 523 pages with 300 rare photographs, is a Sarasaviya bookshop Publication.
Nayanajith, a Lake House journalist and a visiting lecturer at the University of Visual and Performing Arts, has authored a number of publications: Adyatana Cinemave Lingika Pravanatava (1999), Ganiini Vishviya Rupanavedayaka Asiyanu Purgamiya (2004), Sri Lankeya Cinema Vansaya (2005) and Lester Virachita Lekhana Sanhita (2006)
He will be launching his official website www.nuwannayanajith.com designed by Prabath Withanage, a University of Kelaniya undergraduate at this event.