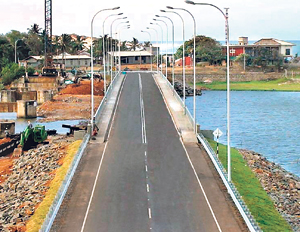 Picture shows the recently completed Arugambay Bridge, in which Walkers handled the steel superstructure.
MTD Walkers PLC, successor to Kapila Heavy Equipment PLC and holding company of Walker Sons and Company Engineering (Pvt.) Ltd, will soon commence the setting up of a fully fledged master workshop inclusive of a state-of-the-art steel fabrication plant to enhance engineering and infrastructure development capabilities, the company announced recently.
"This master workshop which is to be set up in a 9-acre land in close proximity to Malwana will co-locate all workshops related to engineering and infrastructure development operations, thus further facilitating those works," Head of Operations of MTD Walkers, Air Vice Marshall (Rtd.)Lal Perera said in a press release. MTD Walkers intends to complete the setting up of the workshop by September 2009 and provide job opportunities to over a 100 skilled individuals in this facility.