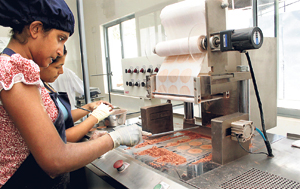 At the Revlon factory
Investing Rs 100 million in Sri Lanka, Revlon has ventured into the local market with its full range of cosmetics and a manufacturing plant. The factory complex situated in Kelanimulla, Angoda is a manufacturing facility for Revlon's entire range of colour cosmetics and personal care products, T.S. Prakash, General Manager of Revlon Lanka said.
The Sri Lankan cosmetics and personal care market is worth approximately US$148 million and it grows 11 percent every year, the General Manager said, explaining the reasoning behind the move to Sri Lanka. "We will have the first mover advantage," he said, as Revlon is the first international colour cosmetics brand to venture into the Sri Lankan market and added that they are looking at capturing 15 percent to 20 percent in the first three years.
"Local consumers are becoming increasingly brand conscious and we will be offering an internationally recognized brand," he said, speaking at the factory premises. The products can be manufactured in Sri Lanka at a lower cost rather than importing from India due to prohibitive import duties, he said. It also allows cosmetics that suit local skin tone and local weather conditions Mr. Prakash explained. Cosmetics that are manufactured in the West are heavy and cream based making it unsuitable for use in the tropical weather conditions prevalent in the sub continent.
Revlon Lanka is a fully owned subsidiary of Modi Revlon of India, license holder of Revlon Inc. of the USA. The factory complex in Sri Lanka is the second Revlon factory situated outside the USA, with the other being the compound in India. The Sunday Times FT (STFT) visited the Revlon factory to get a better look at how chemicals are turned into cosmetics.
The various machines used for the mixing and making of lipsticks and eye-wear make-up stood still as the STFT team began its visit. Packaging was in full swing with the cosmetics having been manufactured earlier. Each batch manufactured undergoes a wide range of tests and the results are sent to Revlon USA. The batch is released to the market only after approval is given, Mr. Prakash said. Revlon is also looking at exporting to other South Asian markets and Pakistan has already shown interest.