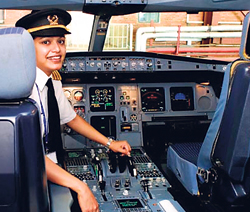 Capt. Anusha Siriratne
SriLankan recently appointed Captain Anusha Siriratne, the national carrier's first Lady Captain. Manoj Gunawardena, the airline's CEO, said: "Our heartiest congratulations to Capt. Anusha Siriratne.
This is a significant event for the national carrier. Sri Lanka has been in the forefront of women's empowerment and it is certainly high time that a Sri Lankan woman took command of an airliner." Capt. Anusha and her husband Capt. Hemantha Siriratne also made history as the first husband-wife pilot duo in the country. Capt. Hemantha received his Captain's appointment earlier this year.
Capt. Anusha is modest about her appointment and brushed off her achievement, which had been her childhood ambition. "Women have lagged behind in the field of aviation in Sri Lanka, in comparison to the rest of the world.
Even in neighbouring countries such as India, women have been airline Captains for many years now," she said, according to a press release issued by the airline.