In my tribute to Manik Sandrasagra ("Manik the Maverick and I", May 17, 2009) I forgot to mention another of his famous forebears who had a run-in with Leonard Woolf when the latter served in Jaffna as Office Assistant from 1904 to 1907.
Woolf upset the bureaucratic status quo at the Jaffna kachcheri by demanding an end to inefficiency such as delays in replying to correspondence. "My unpopularity in Jaffna was not undeserved," Woolf admits in his An Autobiography, Volume 1 (1980)."The difficulties and friction made me for the first time dimly perceive the problems of the imperialist . . . I remember the first time I became fully aware of it and the awareness brought my first doubts whether I wanted to rule others."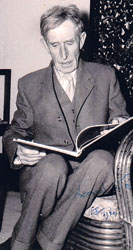 Leonard Woolf
The Jaffna Tamil Association twice reported Woolf to the Governor and asked for his dismissal. The first incident concerned Woolf's order that no spitting be allowed on the kachcheri verandah. "In the second complaint," Woolf relates, "the Jaffna Association pitched on something that was certainly not true. They said that one of their most respected members, Mr Harry Sanderasekera, a well-known lawyer, had been deliberately hit in the face. Mr Sanderasekera had been driving his trap down the main street of Jaffna and he met the GA, Mr Price, and the OA., Mr Woolf, who were riding up the street in the opposite direction. As they passed one another, Mr Woolf turned his horse and deliberately hit Mr Sanderasekera in the face with his riding whip.
"I knew and liked Sanderasekera and had had business with him several times in kachcheri and Court on a friendly basis. Then suddenly I remembered an incident which seemed to explain his misunderstanding and accusation. Shortly after Price took over as GA, he and I were riding up the main street, and, when we got to the top of it I asked him to stop and look back down the street, so he would see clearly how people had encroached upon the street by building verandahs onto the highway.
I remember that my horse had been restless, continually fidgeting and turning round as I pointed out with my riding whip the old line of the street. And then I suddenly remembered that as my horse was dancing about, I caught a glimpse out of the corner of my eye of a trap with Mr Sanderasekera sitting in it."
Woolf had to give a written explanation to the Governor, which was accepted, "but I doubt whether The Tamil Association and M Sanderasekera believed it".
So, according to Woolf, this incident time made him "dimly perceive the problems of the imperialist" and "brought my first doubts whether I wanted to rule others", although his often aloof manner would give little indication of this, I suspect.