Last Wednesday he was up in Vavuniya to commission one of his works at the Chettikulam Hospital and also supervise the construction of two more in the internally displaced camps.
Earlier, on June 5, dressed in formal suit and tie, he was at the green setting of the Vihara Maha Devi Park on Environment Day to accept a National Award for a passion he has pursued relentlessly, almost to the point of being an obsession. He was honoured with the 'National Award for Green Jobs' in the category 'Water resource management through waste water treatment' in a competition held by the Ministry of Environment and Natural Resources.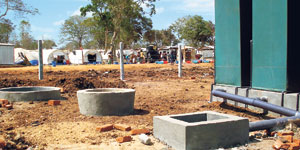 The biogas digesters in operation to treat sewage at Manik Farm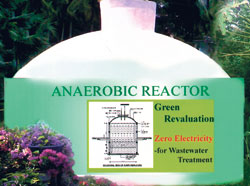 For 51-year-old eco-engineer Athula Jayamanne, water management through waste water treatment is not only his passion but his forte as well.
Be it a garment factory, a hotel, a bakery, a brewery, a camp for internally-displaced people or even just a home, his technology has worked wonders in treating waste water and also utilizing the biogas which is a by-product as a source of energy. "Conventional systems have to use power for factory waste water systems and the cost of power is as high as Rs. 50,000 per month. However, the newly-developed anaerobic treatment system needs no power at all, while producing biogas as a gaseous fuel which can be utilized for the power requirements of the factory," says Athula who is General Manager and Chief Consultant Engineer of Eco Engineers.
And this is the same technology that he is using in Chettikulam Hospital, the Sunday Times understands, with two more huge reactors, with a capacity of 100 cubic metres each, to be constructed in the IDP camps to treat sewage.
"This would prevent the need for gulley bowsers having to ply up and down to cope with the load of sewage in some of the camps," says Athula who is providing his expertise, design, drawings and all free of charge as "it is a national need".
Explaining that the treated waste water could then be used within the camps itself for cultivation of vegetables as it is "liquid fertilizer", he stresses that the biogas generated could be used for cooking purposes.
Athula's quest for a good method of waste water treatment began with field applications way back in 1995, in research and study while working at NERD Centre and culminated in the anaerobic treatment system during his research for his Master's degree at the Asian Institute of Technology (AIT) in Bangkok in 2001.

Athula Jayamanne.
Even while living in Nattandiya long before that he was researching and working at village level on these concepts, he says, recalling a small yoghurt factory in the area which had much waste water from processing milk to make yoghurt, curd and ice cream.
Applying the anaerobic filter technology on a research basis turned out to be a success and the factory not only expanded but also obtained the Environmental Protection Licence (EPL) issued by the Central Environmental Authority (CEA).
As a child too, he would potter around his home in Sandalankawa and attempt to modify stuff. "The modifications to my father's car even the garage people couldn't fathom," he smiles.
That is why he joined the National Diploma in Technology course at the University of Moratuwa, Katubedda after his Advanced Level examination, at the conclusion of which he was appointed a Technical Assistant at NERD Centre where his career took off. Thereafter, there was no looking back and he sat Part I and II examinations conducted by the Institute of Engineers of Sri Lanka after which NERD Centre appointed him a research engineer where he undertook a lot of research under the guidance of Dr. A.N.S. Kulasinghe.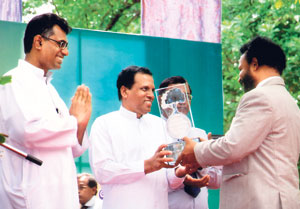 Athula being presented his award by Minister Maithripala Sirisena while Minister Champika Ranawaka looks on.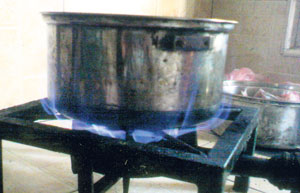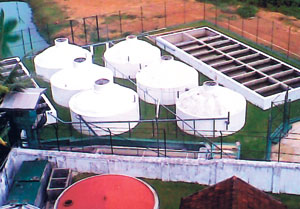 The reactors at Sri Lanka Distilleries Ltd, which produce biogas to fire its boilers and (bottom) a digester in a kitchen.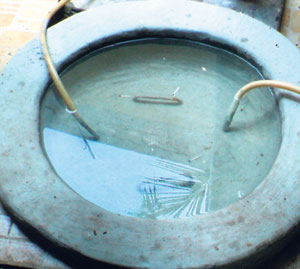 "During my 25-year stint with NERD many were the research programmes and foreign training programmes that helped me immensely," he says.
His first major project, according to Athula, was tackling the waste water problem at McCallum Breweries at Meegoda. When he came on the scene, the brewery was battling legal action initiated by the CEA.
The construction of biogas digesters with anaerobic filters according to advanced technology he had gathered not only from experience but also after poring over international research papers did the job.
"It took about six months," says Athula conceding that among the teething problems were the reactors getting clogged and the treated water not meeting the required CEA standards.
Fine-tuning the system did the trick and the CEA issued the EPL. "The system is still operating today, with the EPL being granted annually to MacCallum Breweries," he says.
As he was researching heavily into bio-gas technology, he was put in charge of the Biogas Section of NERD Centre, during which time many were his inventions internationally published papers.
It was in 2000 that he secured a scholarship to do "deep study on biogas technology" for his Master's degree at AIT, partly subsidized by AIT as he was a known name due to the publication of his technical papers in its magazine in 1999.Awards and kudos apart, Athula is very much a man with his feet firmly planted on the ground. Many are the homes that he has rescued from challenging sewage, waste water and garbage problems.
He has constructed digesters at domestic level to treat sewage, waste water from the kitchen sink and digestible waste like vegetables and swill.
"There will only be an initial cost of about Rs. 50,000," calculates Athula, ticking off the long-term benefits and savings from the digester. The bio-gas can be used for cooking, making the LP gas cylinder most households purchase at a cost of Rs. 1,500 every month, redundant, there will be no overflow from the septic tank necessitating the local body to be approached for a backhoe to clear it regularly, once again at a cost and the treated water can be used for flower and vegetable cultivations in the home garden, bringing down the water bill.
"If there isn't much garden space, the system can be installed in the kitchen itself," he says, adding that there are no problems with maintenance or the water table, whether high or low for this system which acts as a three-in-one valuable tool.