"Dona Isabella Kathirina Fernando, 38 years old and new owner of the house with the longest verandah in the sacked Galle Fort, knows this about the cake from which she makes her living: a good love cake is like the memory of a lost lover's kiss.
She knows its crumbling interior as well as she knows the inside of her folded arm. The cake's aroma, when it comes out of the oven, is as familiar to her as the scent of the one frangipani she tucks behind her ear. She understands how the cake mellows in the cooling cupboard at the end of the corridor the way she feels her pillow soothing her at mid-day when the heat of the sun leaps off the sea outside her house and creeps in through the latticed windows. Kathirina knows all this about her bolo-de-amore even though she never tasted her lover's kiss."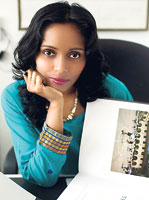 Ramya Chamalie Jirasinghe.
So ran the entry which won for Sri Lankan poet and writer Ramya Chamalie Jirasinghe a runners-up award in what the British Guardian newspaper called "Our very own Orange prize". The Orange Prize is the prestigious international award for the best of fiction by women writers and in its own prelude to the award, titled The Guardian Orange First Words Competition, the newspaper asked readers to write an opening paragraph - a mere 150 words to a new novel called 'The Letting Go'.
The contest was to be judged by Orange award co-founder Kate Mosse, author of Labryinth and when the winners were announced just three weeks later, Ramya found her entry in the top three. 'Three of our readers have won some very covetable honours," said the newspaper. The winner was Tolu Ogunlesi while Ramya picked up one of the two runners- up awards, the other going to Vicki Wilson.
Commenting on the entries, Mosse said: "It is hard to achieve a sense of place, story and character in just a paragraph, but it's an excellent discipline. In fiction, often, less is more. Making every word count, as poets do, is what this competition is about and I'm delighted by both the high number of entries this year and the wide range of nationalities and countries represented.
Speaking to The Sunday Times, Ramya was quite delighted at the recognition she received for something she did virtually on impulse. "I love reading The Guardian- I read it online every Monday and when I saw this competition, I knew what I wanted to write. I already had the character, the cake, the setting. So I sent it off and forgot about it, until I got this email from them. It was a nice feeling to see my work recognised among other international writers."
Disarmingly modest though she is, Ramya is a familiar voice in the local literary scene, having been twice short-listed for the Gratiaen award, first for her poetry manuscript 'Forgetting Memories' in 1998 and more recently in 2008 for more poetry 'A Map and a Compass Moon'. She is also the author of two books 'Rhythm of the Sea' and 'Trinity'. Her poems have also been published in the Tipton poetry Journal, Channels, Options and she won the State Youth Award for Poetry in 1993 and was a joint winner of the English Writers' Co-operative (EWC) Poetry Prize in 1997.
Her journey as a writer began when still in her teens, she had a poem published in Channels. That early encouragement went a long way, she recalls. "I owe much to Anne Ranasinghe, whom I regard as a mentor," she says, for it was Anne who years later took the trouble to call up the aspiring poet at home and encourage her to keep writing. Ramya meanwhile had majored in literature at Richmond College, London and followed it up with a Master of Arts from the School of African and Asian Studies of the University of London.
Both her books were commissioned projects and she thoroughly enjoyed the challenge each represented, but poetry remains her first love. Asked if she could see the intriguing introduction to Dona Kathirina going on to become a fully-fledged novel, she demurs, saying a huge amount of research would be needed to turn it into a book, although the worlds of the Galle Fort and love cake are familiar territory.
Galle Fort, yes but love cake? Interestingly there is another side to Ramya, one perhaps little known yet. She is an ardent 'foodie'. The love cake so fondly described here is something she herself enjoys, and she confesses happily that she is a purist when it comes to the making of it. She will only do so if she has all the proper ingredients- right down to the natural vanilla, that she has tracked down to a shop down Elvitigala Mawatha. "If you use artificial vanilla, there is this bitter aftertaste," she says. This appreciation of good food comes from her mother, whose cooking she is still privileged to enjoy and she talks fondly about that generation in her family where cooking was a fine art, done with love and savoured with appreciation.
About a year ago, Ramya founded the Slow Food Convivium, the Sri Lankan branch of an international good food movement that aims to preserve cultural cuisine-rediscovering the pleasures of properly cooked food, as opposed to fast food and is now hoping to launch it to the public with monthly cooking sessions courtesy a fellow afficionado, a Cuban chef at the Mount Lavinia Hotel.
But in the meantime, along with her work at the Fulbright Commission, there is her book of poetry, all but ready for publication. "I just need to get it out," she says, considering that it's been ten years in the writing. The introduction too is written-by Prof. Ranjini Obeysekere - and all that remains is for Ramya to find that still elusive title she's searching for.
Pic by Alefiya Akberally