The year is 1934 – a time long before film was introduced to colour and Dolby Digital, when the world was still seen only in black and white through shaky images. The opening scene is a thovil (exorcism) ceremony with the haunting music of a rare Sinhala verse playing in the background, followed by an equally eerie mix of horns, strings, cymbals and bass, recorded in poor quality, but effective and terrifyingly beautiful all the same.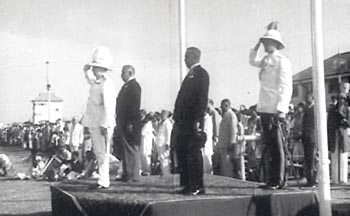 Recording the first anniversary celebrations of independence
Lionel Wendt starts his narration. "In ancient times all the low parts of this land was covered with dark and monstrous forests through which no man might pass without peril," he says, quoting Robert Knox.,
Titled Song of Ceylon, this gem of a documentary is an awe-inspiring commentary on various rituals practised in our isle seen through the lens of director Basil Wright.
It achieved the double honour of being awarded first place in the documentary class and the prix du gouvernement for the best film in all classes at the Brussels International Film Festival in 1935. This classic is one of many documentaries, 152 to be exact, spanning the post-Independence era to 2008, now preserved by the Government Film Unit (GFU) under a special project funded by the US Ambassador's Fund for Cultural Preservation to safeguard the country's valuable archival documentary film footage. In addition to the documentaries, a total of 18 newsreel coverages have also been catalogued, labelled and preserved.
Project Director, television personality and documentary veteran Sharadha de Saram believes this is a worthy endeavour and a necessity, given the fragile condition of these films, most of which are over 50 years old.
"During the time I worked with the Sri Lanka Rupavahini Corporation I often had to depend on the archival footage available at the GFU, for my news and current affairs productions. It was the GFU that provided the most important archival images to make our stories more meaningful. Though this material is a unique visual record of this country's history, perhaps unparalleled by that of any other country in South Asia, about 60% of the material had deteriorated or perished due to a number of reasons," she says.
The beginnings: Tissa Abeysekara, Sharadha de Saram and Librarian GFU Nishantha Kulatilleka viewing archival footage
The project to save this footage was a result of a chance meeting Sharadha had with former Assistant Cultural Affairs Officer of the US Embassy Kathleen Fox where she brought up the matter and mentioned to the latter how digitising these films could benefit the cinema-going people of this country. Cultural Affairs Officer of the US Embassy in Sri Lanka Glen S. Davis told The Sunday Times that US $ 18,580 was granted for this project.
"Kathleen was eager to explore the opportunities. It went rather fast… project proposal writing, budget making, preparing timelines and the like. I then met the then Director General of the Government Information Department Anusha Palpita who shared my interest and gave me all the support I needed to make my submission in time. We were all very excited when the project was finally approved," says Sharadha.
It was the GFU's duty to preserve these valuable documentaries, Mr. Palpita says. "We held discussions and finally we came to an agreement, because this is a matter of national significance. These films must be preserved for the next 50-70 years. It's our duty," he told the Sunday Times.
Sitting through 152 films and painstakingly recording a catalogue for each and every one was never going to be easy. Fortunately Sharadha had the enthusiastic support and help of one of Sri Lankan cinema's legends – the late, great Tissa Abeysekara.
"Tissa was like a walking encyclopedia. And when I told him about this project, he couldn't believe his ears. We knew each other and we always wanted to do something together. Working with him was especially nice because he related so many anecdotes as we viewed these movies. We would watch at least eight movies a day," she says, recalling her experience with Mr. Abeysekara – possibly his last contribution to the country before his untimely death.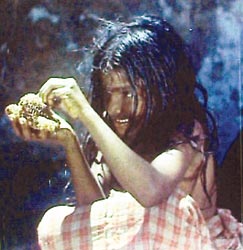 A still from The Living Wild (1959)
The films didn't have any supporting narratives of their own. There was no written material. Tissa Abeysekara was the one person who had the knowledge and could recall the details. So he and Sharadha had to put their heads together and come up with narratives from scratch.
"He used to give me these interesting little anecdotes which I would write down. We somehow gathered all the facts and data and when we were done we had 152 films and 18 newsreels. Then he went to hospital… and never came back. I was really sad, and I'm especially sad now, now that he's not here to celebrate this. The catalogue has now been completed and it looks great," she says.
"It took me and Tissa back in time. When we walked out of the screening area, it was like we were in another country. Because those movies were from another time, post independence Ceylon, and we were so absorbed in it, that when you came out everything had, somehow, changed. We really enjoyed that because it took us back to a memorable period of Sri Lanka's history," she says.
It took them about one and a half years to view all the films, write up the supporting narratives and finally begin the process of digitising them. A catalogue of the narratives containing summaries, background details, director's name, duration, etc. has now been made, and with the assistance of the Asia Foundation, 500 copies have been printed for distribution.
It seems like a daunting task, but not for Sharadha. "These are some of the most valuable archival documentary film footage available in Sri Lanka. For me what was so fascinating about them was that they presented all citizens of this country as Sri Lankans. They never talked about ethnicity. If you take a film about fisher folk, you'll find that it won't mention any community who are supposed to be engaged in that profession. All adjectives are left out. They don't identify anything with ethnicity or religion. It was just one Sri Lanka," she says.
"There's a film by Reggie Siriwardene called Rhythms of the People. It moves me every time I see its introduction. His opening line is "these are my people". What a profound statement. And he does not even say to which race or religion they belong. Who says that sort of thing today?" asks Sharadha.
Special screening
A selected set of the preserved documentaries and newsreels will be screened at the ceremony to mark the completion of the GFU archival project on Wednesday, May 12 from 5.30 p.m onwards at the Tharangani Cinema Hall at the National Film Corporation, Bauddhaloka Mawatha, Colombo 7.
6.25 p.m - The Living Wild (English) - A film on Ceylon's National Parks and the life of the Veddah community living in their natural habitat - 1959 - Irwin Dassanayake (40 min)
7.05 p.m. - Meegamuwe Mas Maranno (Sinhala) - Fishermen of Negombo, 1955 - George Wickremasinghe (25 min)
7.30 p.m. Kamam (English) - Tamil word for agriculture - A film on the agricultural life of the Jaffna people described through Tamil folk songs - late 1970s - Tissa Abeysekara (14 min)
7.44 p.m. - Century of Ceylon Tea (English) This history of Ceylon Tea filmed in the tea plantations as they existed in the pre-nationalisation period - 1967 - P. Hettiarachchi (20 min)
8.04 p.m. Ceylon News No. 1 (English) The very first newsreel produced by the GFU - 1949 (10 min)
Item 1 - Sacred relics leave for Burma
Item 2 - First year Independence celebrations
Item 3 - Cyclone hits Gintota
Item 4 - Gussie Moran and Pat Todd at the Garden Club
Item 5 - Independence March by Satcha Distel and his band
8.30 p.m. Rhythms of the People (English) - A film on the folk songs and dances of southern Sri Lanka - 1958/1959/1960 - P. Hettiarachchi (30 mn).