"These beautiful opportunities come served to you on a golden plate because it's not just a title it's a representation of who you are, your strengths, your high set of goals and your ambassadorial qualities. To have a country's name on your shoulders is a task not handed out to just anyone but a select few." These are the sentiments of Jacqueline Fernandez, Miss Sri Lanka for Miss Universe 2006 of her experience of being part of this elite group of beauty queens, representing her country at a premier international pageant.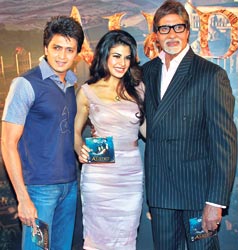 From beauty pageant to stardom: Jacqueline Fernandez at the launch of the film Aladin with her Bollywood co-stars Amitabh Bachchan and Ritesh Deshmukh
As much as it is a privilege to be a part of this elite group and even a stepping stone to stardom, beauty pageants do not seem to be too popular among Sri Lankan women. "There are some really beautiful girls in the country but they don't come forward," says Rosita Wickremesinghe, National Director in Sri Lanka for Miss Universe.
Society's attitude has to change says Rosita, adding that the situation is quite different in our neighbour India which has produced its fair share of Miss Universe winners in recent years. "In India from a young age of around five to six years, girls have their mothers training them and grooming them to become beauty queens."
Jacqueline Fernandez can probably be considered one of Miss Sri Lanka's big success stories having gone from being Miss Sri Lanka to the silver screen. She had a dream debut in Bollywood acting alongside screen legend Amitabh Bachchan. "It was her dream and she was going to use the Miss Sri Lanka title as a stepping stone," Rosita says.
With there being so much potential here in Sri Lanka the question arises as to why we don't seem to have much success in international pageants such as Miss Universe. "It is the lack of experience in the field," says Rosita, adding that our young beauty queens need to be given exposure to various other international pageants to help them build confidence.
Busy organising the next Miss Sri Lanka for Miss Universe pageant, Rosita details the hard work that goes into putting on the show and stresses that support has to be forthcoming from many sectors. The private sector, the beauty care sector and the fashion industry can be uplifted and encouraged by getting more involved in the pageant, she feels. Well known names in the beauty and fashion industry such as Ramani Fernando, Yohan Peiris, Michael Wijesuriya, Lou Ching Wong and Chryshanthi Fernandopulle, to name a few, will be involved with the pageant."Because we work with these top people, the contest is of a certain standing. The contest follows strict rules with a computer system set up by Jagath Robotics to tabulate scores," she says.
Prior to the Miss Sri Lanka pageant, the contestants will go through three weeks of intense training, learning the finer details of looking good from grooming to social etiquette to effective communication as every aspect is vital to do well in this pageant as well as the big one – Miss Universe.
Fitness is extremely important too, so contestants are given gym facilities to allow them to train there. Times are changing, and one of the new trends for Miss Universe is that cosmetic surgery is allowed.
The contest is held under tight security so contestants are well looked after and in addition, the organisers do their best to provide the contestants with everything they need including their wardrobe.
So the big question…what makes a beauty queen and how do you succeed in becoming one? "Well, you must be driven," Rosita stresses adding, "You must also be good looking, intelligent, charismatic and have a good height."
Language is not a barrier, she stresses. "The reigning Miss Sri Lanka Aruni Rajapakse is from a remote village in Kandy and she really blossomed. I feel this is because she was sent for many pageants," Rosita says.
Entries are now being received for the Miss Sri Lanka pageant. So if you're attractive and intelligent, and between 18 and 27 years, this may be your chance. Look for the entry coupons for Miss Sri Lanka Universe in all publications of Wijeya Newspapers Limited.