This book is the second of the series of fascicles dealing with haematological diseases by this author. The first was Anaemia. Dr. Prematilleke maintains and improves a clear and consistent style of presentation. The language she uses in this book is clear, lucid and scientific with a 'clinical teaching' accent on occasions.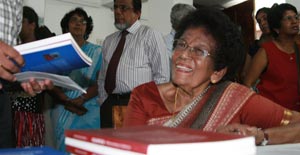 At the book launch: Dr. Premathilleke autographing copies of her book
The chapters and contents are arranged and presented in a comprehensive and authoritative manner, presenting the basic scientific principles in haematology to include normal white cell formation, benign abnormalities and the pathological changes with hyperplasia, aplasia, apoptosis proliferations, dysplasia, metalasia and neoplasia. Her work continues the excellence of previous work in this dynamic field with clear concise descriptions of the various sections in the text.
The knowledge in the book is organized into relevant chapters and the content and structure of the contents of the chapters are as in standard text books with subheadings such as inherited and acquired abnormalities when needed.
The list of abbreviations is as in the 1st fascicle and essential. Nanda Prematilleke's vast experience in clinical and laboratory haematology whose opinion is valued by clinicians and haematologists has made this book a store house of knowledge to technicians and students—both graduate and post doctoral and her colleagues.
I believe that some of these chapters for example, 'chronic myeloid leukaemia', 'myelodysplasia chronic myelofibrosis lympomas' and multiple myeloma should be individual books either by her or as a multi author text book.
The aetiological studies are concise, compact and complete. A separate chapter on aetiology, especially the chromosome studies with more descriptive figures and illustrations should be considered.
Treatments of the conditions mentioned are particular without varied treatment schedules. Treatment of some age groups and disease phase are described when indicated. The classification of some disease groups such as myelofibrosis describes a gradation from early forms to the present including relevant WHO formats.
Her attempt at completeness especially in the differential diagnosis has made her include at length diseases such as toxoplasmosis (description of Paul-Bunell) and HIV infections.
Possibly her next edition would have more colour photographs and the figure numbers of the captions highlighted.
This is a book that will be used at the bench, the ward and the library. I am eagerly awaiting the 3rd and 4th fascicles.