It was a sleepy afternoon for the few villagers in the hamlet of Kattambuwawe off Maho. Suddenly they were shocked out of their lethargy by a series of pata patas emanating from the sprawling rock which had been part of their lives from the time of their birth.
It had never happened before. The booms seemed to come from the heart of the rock. Athule wedi paththu karanawa wage, says P.M.N. Padmakumari recalling the incidents on April 29 and 30 explaining that it was as if someone was firing inside the rock itself.
But the cracks appeared on the other side, she says, explaining that a few days before there had been severe lightning and thunder, with some coconut trees by the rock getting singed.
A knot of people gathers on the rock to give details of the happenings which have brought some fame to their tiny village set in Konwewa, close to Yapahuwwa. For, now a stream of visitors wends its way across this pastoral landscape, past a serene wewa dotted with olu to clamber across the Maha Padala Gala and wonder at the cracks and fissures that have appeared after the bang, bang.
P.M. Piyathilake, who had been quarrying the rock for many long years as his livelihood but is now into paddy cultivation had heard about 10-15 "vedi" (shots) that afternoon.
King's tunnel
Rock quarrying has been prohibited, he smiles sheepishly, when the Sunday Times questions whether it could have been due to someone planting dynamite.
On hearing the shots he ran up the rock and kept his ear to the ground to hear a "jara, jara" noise. The rock surface was also hot to the touch, while a thin stream of steam like from the spout of a kettle blew out from another side of the rock.
The tales linked to the rock spew out from the other onlookers. Stories abound about a tunnel that cleaves under the rock which is believed to have been from the palace of King Buvaneka Bahu.
"People say that food had been stored in the large area under the rock," explains P.M.P Bandara, indicating that now it is home to a large number of bats. That's why there is koila (stench), he adds.
Another tale is that there is a nidhane (treasure), he says, adding that a large snake haunts the mouth of the tunnel. "We haven't seen it but a human being can get into the skin that has been shed by it."
Here was also where the young insurgents hid their cache of weapons during the height of the Janatha Vimukthi Peramuna uprising way back in 1971, Bandara adds.
Changing weather cause for cracks and 'explosions'
Exfoliation or peeling of thin rock bands or cracking takes place due to expansion and contraction phenomena caused by daily temperature changes – heating during the day and cooling at night or during nightfall, states Prof. Kapila Dahanayake, Senior Professor of Geology, University of Peradeniya who last Thursday visited Kattambuwawe where "explosions" were reported, for a observation.
Several microscopic cracks develop due to many million repetitions of heating and cooling that a decayed (weathered) rock undergoes over a long period of time sometimes extending to hundreds or thousands of years. The rock also periodically ruptures in the presence of water from rain, he states in an e-mail.
When this happens a loud report of a splitting rock or fissure and noise of its fall can be heard, which will be interpreted by laymen as explosions. It is possible that the "explosions" reported by villagers on two days in April could have been accelerated by thunder and lightning which had been experienced in the area, he adds.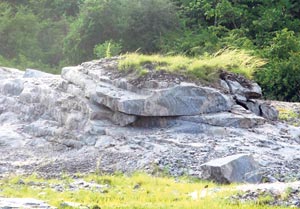 A sequence of curved shells developed on Migmatite rock -- a highly folded rock with thin foliation planes. The separation of shells of decayed or weathered rock is due to the phenomenon of spheroidal weathering.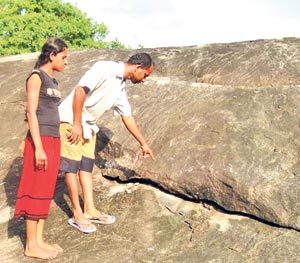 Fumes which had accumulated during the two days of explosions had emanated from the opening (as indicated by the persons in the photo) that had developed in the rock