Looking for romantic escapes and indeed escapades? Little known to many, Kolkata is coming into vogue as Cupidom in its latest avatar.
Colonial Capers: Kolkata was the grand capital of the Raj until 1911 when the intellectual fervour and desire for independence that this city generated chased the Brits away to the more innocuous Delhi. But India's colonial heart was and is in Kolkata or Calcutta, as the British called it.
Gracefully poised or perhaps sprawled across the celebrated Chowringhee is the 140-year-old Oberoi Grand. Of course, the iconic legend was not always a hotel. During the heyday of the Raj, a British military commander, rather grandly called it Colonel Grand and luxuriated over three estates which were then fused into what is today's hotel.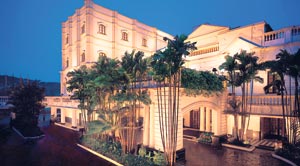 Gracious elegance: The Oberoi Grand's imposing entrance.
But not before the building was used in the Second World War to accommodate wounded soldiers. The story goes that when hotelier Mr. Oberoi first acquired the property its plumbing was "infected." Therefore, soldiers were given bottles of soda water for their daily ablutions. A hotel whose baptism took place with pop and fizz could not but perpetuate the tradition of bubbly and grand style.
Inside Story: If the hotel's façade is imposingly majestic then its interiors are a labour of love. Traverse the Raj epoch porch and you find yourself in an abode of green marble and colonial splendour that time-machine-like whisks you away to a gentler era. At first the hotel reminds one of the Crillon in Paris. But even Le Crillon cannot boast the sheer luxury of space that the Oberoi Grand affords. Swooping down from lofty heights is an immense chandelier whose tip, like an o-shaped mouth, kisses the lips of an abundant floral arrangement of orange lilies that raise their heads yearningly from a magnificent glass vase.
Poolside Passion: The hotel has one of the most astonishing pools you are likely to encounter. Every part of the hotel opens or looks onto this exquisite space courted by murmuring corridors and paid homage to by hanging balconies. Here is an oasis of calm that cocoons you away from the chaos of cluttered Kolkata. Languish under swooning palms. Candlelit poolside suppers can be supremely romantic. But avail too of the almost French Riviera feel of this enclave by day. My favourite spot was a pillared, yellow-parasoled pavilion in the embrace of twining creepers.
Suites for My Sweets: The fourth floor is where you find the large rooms with quaint and charming four-poster beds. But should you prefer a room with a view as well as a balcony then go for the third floor. Whichever floor you opt for, the understated elegance the accommodation exudes will floor you.
Amorous Transports: Kolkata is a city of staggering historic and cultural wealth and the Oberoi Grand is conveniently located near the major monuments. Rated amongst the world's best museums, the Indian Museum (which houses India's largest collection of Gandhara Buddhist sculptures), the Victoria and Asiatic Society (which has 1000-year-old priceless Buddhist tantric manuscripts) are within walking distance. Of course, the Oberoi will convey you thither in a slick Mercedes Benz unless you opt for their early morning heritage walk designed to take you on a tour of the colonial epicentre Dalhousie, Nobel Laureate Rabindranath Tagore's house and the sensational Marble Palace, a live-in museum that was never lived in but which houses one of the world's largest private collections of art. Also, don't forget to pick up DVDs of rare Satyajit Ray and international-award-winning Rithparno Ghosh films from nearby Eagle Palace that is the DVD specialist for Eastern India.
The Green Eyed Monster: Whilst shopping malls are burgeoning around Kolkata, ask the Oberoi to dispatch you on a shopping spree to Green Mall, an open-air "mall" cast over 30 acres housing India's largest collection of plants including 2000 varieties and over 200 rare palms.
Love Bites: One of India's best breakfast buffets beckons at La Terrasse. This chic French-style brasserie that you would be hard-pressed to find even in France today assembles exotic dry fruit and fruit (including pomegranate) that is a meal in itself. But miss not the delicious Danish pastries, croissants and breads to be had with cheeses and salads or freshly made compotes like mud apple, papaya, various berries etc. Breakfast mains are equally extensive but the South Indian fare is recommended.
Supper Serenade: The hotel's speciality Bahn Thai restaurant was rated amongst Asia's 20 Best Restaurants. They certainly do super salads and amongst the best pak thai you've tried. Italian salads at La Terrasse, be they simple but simply excellent mozzarella and tomato or more adventurous innovations are worth trying too. But it is the Indian cuisine that wowed. Executive Chef Saurav Banerjee's passion for perfection showed as a symphony of savours and medley of textures. North Indian specialities include nouveates like almond kebabs. But ask for the Bengali thali. I was only presented two starters, 12 curries and dhals and 7 desserts.
Tea, Coffee or Me? Whilst Darjeeling neighbours Kolkata and the hotel houses a good selection of world famous Darjeeling teas, they also have some good coffees including Indian and international. Their Finca filter coffee at breakfast is perhaps the finest of the lot but try the espresso- they come with soft-centre double chocolate cookies.
Sweet Dreams: The hotel convenes both irresistible Bengali sweets that the city is fabled for as well as western numbers like chocolate mud pie and homemade ice creams. The Bengali sweets are a must. The selection is prodigious and the sweetmeats are sweet, even by Bengali standards. So if you are apprehensive of getting through them all, then opt for ras gullah and saffron sandesh. On the other hand, eat your heart out dahlin. Or should one say sweetheart?
Design Danger: The Oberoi Grand is voted India's best luxury hotel and makes for a 7-night sojourn. However, for the young at heart the Park hotels have a monopoly on city slick. The Park's flagship Kolkata property, one of India's most hip and happening city hotels, has had another happening. A new lobby, signature suites and a 24-hr restaurant courtesy of famous London-based designer Terence Conran. Besides an alluring Oriental spa, this chic Park Street address is India's only hotel with four night clubs including Tantra, Roxy, Someplace Else and the poolside Aqua. Each plays a different style of music and throbs with the city's glam young things. This is the hotel's claim to fame.
What most don't know is that the hotel now participates in the just-inaugurated Kolkata Literary Festival. It also has the sexiest outdoor terraces and serves India's best pizzas at the newly launched Bridge (pizzas so thin and light you may have a coupe of pizzas- yes, you may). The young chef trained under Antonio Carluccio is amongst the few in India serving "proper" al dente pasta, homemade too. The fusion restaurant Zen does super sushi that has been compared to London's Michelin-starred Nobu. Another new restaurant will launch for Christmas.
And when in Kolkata, do what the Kolkatans do: Dinner at The Taj Bengal's atmospheric Indian speciality restaurant that does some of the city's finest Bengali cuisine. Great desserts, so eat your heart out!