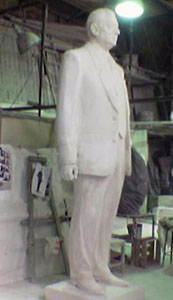 The statue which has been lying in a crate at the LKIIRSS
The statue of the late Foreign Minister Lakshman Kadirgamar has been lying in a crate at the Lakshman Kadirgamar Institute of International Relations and Strategic Studies (LKIIRSS) for several years.
Former Foreign Minister Rohitha Bogollagama stood his ground and refused to have it erected at the entrance to the institute.
He was probably oblivious to the great services rendered by Mr. Kadirgamar. It was Mr. Kadirgamar who, as foreign minister of Sri Lanka, convinced the world that the LTTE was a terrorist organisation and got the United Nations to declare Vesak a holiday.
Now that Mr. Bogollagama has been defeated at the general elections, the new External Affairs Minister G.L. Peiris should take immediate steps to place the statue at the entrance to the institute.
As true Buddhists, we should show that we live by his words pujaca pujaniyan in the Mangala Sutta.
Mr. Kadirgamar was not a mere politician; he was a statesman who stood tall both literally and metaphorically among the politicians who were largely interested in personal aggrandizement. Let us give him the due honour.
S. Abeywickrama, Nugegoda