On June 28 this year, just 18 days after he turns 40, Bharatha "Dylan" Samarawickrama will set off on a journey of self discovery – an epic adventure spanning several continents. Astride his beloved BMW 1150 GS, a powerful 1,130 cc motorbike specially built for the adventurous, Dylan hopes to ride from Switzerland all the way to New Zealand, and maybe even the Americas, if he's lucky, during the course of a year.
En route, Dylan will cross Europe through the Balkan countries in the direction of Greece, Turkey, Syria and Jordon, after which he'll enter Africa through Egypt. From there he plans to go straight to the very bottom of the African continent, otherwise known as the cradle of mankind, and go back up through the outskirts of West Asia via Yemen and Oman, and through Iran and Pakistan onto North India. And from there it's all the way Down Under through South East Asia.
Earlier travels: Stuck in the desert in Iran and below revisiting Rajasthan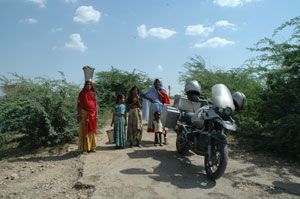 "Further travels from New Zealand onwards will depend on what will be left in my bank account after getting to New Zealand. But of course I'd love to continue the journey through South America to North America so that I can do my 360° around the globe," says Dylan.
So, basically, that's Jules Verne's Around the World in… 365 Days – give or take. This long and potentially hazardous journey is going to be preceded by what he calls a "test run" from Switzerland to St. Petersburg, Russia and back, through Southern Scandinavia – a staggering 6500 km. Dylan hopes to be back in Switzerland by August, and after three weeks of preparation, head off on his epic journey. All this, on a budget of just 450.00 US Dollars.
Now, why would a happily married guy leading a relatively comfortable life in a country like Switzerland want to do something this daunting when most people in his place would rather… go on a hike up the Alps, maybe?
"I love travelling. I have travelled a lot in my life. So far I have visited 42 countries, some of them three or four times. I just can't get enough of what I see and the things I experience. I have to see the world. I want to discover the world before it's too late," says Dylan.
Dylan was born in Gampola, Sri Lanka where he grew up with his mother and three brothers. He studied at St. Anthony's College, Wattala, but as the eldest of the family, and as the man of the house, (his father, a respected businessman, having met with an unfortunate fate following a burglary attempt on their house), Dylan decided to try his luck abroad. At the age of 16, he left Sri Lanka for England with his uncle. That's where his love affair with motorbikes began.
"I got my first motorcycle when I was 17, a Yamaha MR50. That was in England. And after that there was no looking back," he says. A car mechanic by profession, Dylan runs his own business in Switzerland. Recently, having got a very good offer to help develop his business, he began thinking. "I was very much looking forward to this new venture. But then... I began to think about my life What is it all about? What will bring me if I make Rs. 100 million in the next 10 years but lose my freedom? What will money bring me if I can't go travelling one day? I mean, when I have the time, when I retire. So, I told myself… I have to see the world. I want to discover the world as it once was before it's too late," he says.
Last year, when Dylan travelled to India on his bike, he wanted to pay a visit to Jaisalmere in Rajastan, where he and his wife went for their honeymoon. It was one of the most beautiful places Dylan had ever been to so, naturally, he was eager to see it again.
"I was riding through the desert. It was boiling hot. I rode 2000 km just to get to that place. But when I got there, I was really disappointed."It was not the Jaisalmere Dylan remembered. In 15 years, the place had changed dramatically.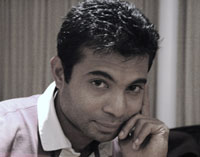 Dylan: Not interested in seeking fame
"The beauty was gone. The charm was no more. It was noisy, smelly and over populated. I hated the place," he recalls. He had a similar experience back home in Sri Lanka when he went to the Hendala Beach where, as a youngster, Dylan used to hang out. "Those days it was a beautiful beach with so much of nature around. But today there's nothing! It's all being built on," he says, dejectedly.
This is why Dylan does what he does. He wants to see the world before "development" swallows it and changes its face forever.
"I want to see the world now before it's too late," he tells me, again. Dylan's wife Debby, a Swiss national who is a nurse by profession, met Dylan in England when she was studying English there. Three and a half years later they were married. Their honeymoon was a memorable four-month trip around the Indian subcontinent – on Dylan's bike. So, clearly, Debby is no stranger to motorbikes. But does she worry about her husband when he goes off on his many escapades?
"I just love what he does, because I am like him. Well, sometimes I am concerned about him if he goes to dangerous places, but I'm confident that Dylan knows what he's doing, because I know he won't take any unnecessary risks," she says.
After a bad accident in Pakistan that fractured his collar bone, Dylan was forced to undergo treatment there. His wife flew to Karachchi to see him. She had never ridden a motorbike before, but Dylan asked her if she could learn to ride it, so they could complete the tour together.
"She was really brave enough to ride the bike with me as pillion. She rode it about a week till I was healed, from Lahore to Jaisalmere. That's about 2000 km."
Debby will join her husband in India when she goes there in August for voluntary work. From there they will ride together all the way to New Zealand, and maybe beyond. She tells me that Dylan is committed to what he believes in.
"The purpose of my journey is not just to ride through and leave only a big cloud of dust behind me. I want to really explore and get to know the countries I visit, get to know the locals and understand their ways; learn about cultures and, if possible, leave my footprints behind by doing something good for those communities that are less privileged," Dylan says.
Once he reaches Africa, Dylan says, he hopes to raise funds to build a tube-well in Ethiopia. Dylan has no interest in seeking fame or breaking world records. With a tent, sleeping bag, stove, two pots, a plate and a cup and a few tools to repair the bike, along with tyres and some spare parts attached to his bike, Dylan wants to do it the hard way.