These days, just about everybody who is anybody is Indian. This phenomenon first came to this writer's attention around a decade and a half ago, when in a single significant year (1994) two sub-continental beauties became Miss Universe and Miss World (Sushmita Sen and Aishwarya Rai, respectively). The latest happening with any kind of parallel, to my mind at least, is the crowning of Jacqueline Fernandez as the IIFA's Debutante of the Year…
Now, folks, the thing to notice here is that "our Jacquie" – if one may be so presumptuous as to lay claim like this – is not really Indian. She was born in Trincomalee, was brought up in Bahrain, and sashayed into the spotlight of Bollywood only of late.
Still, in the good old days, when Ms. Fernandez was still something of a tyro in the catwalk and cine stakes, she was unmistakably a child of Serendipity. So much so that idealistic young dreamers (ahem… who shall be nameless) falsely assumed that she was splendid material indeed from which to, er, fashion an ambassador for our homeland in dire need of good press overseas at that time.
Such folly was soon dashed from the lips of smitten admirers, when the object of their fond dreams (for the old country, let us hasten to assure you, dears) upped and vanished in an Aladdin-like miasma. And so, one of Sri Lanka's brightest and best (dreams die hard) was swallowed by the megalithic movie and magazine machine that is Mother India.
By the way, JF is not the only 'Indian' to dominate local headlines these days. The beaux and belles from Bharat are making a splash at home and abroad, too. Such that it is not only this columnist who is muttering dark thoughts about how everything is tinged with a sub-continental patina these days.
Amitabh Bachchan, who was here in the run-up to the IIFA – to promote Aladdin, in which Jacqueline Fernandez co-starred – is Indian. The guys and gals of the celluloid industry who invaded Sri Lanka's entertainment space just this week were all Indian – albeit evidently distant descendants of the Greek general Alexander's conquering armies, to judge by their golden veneers and green eyes!
And speaking of invading Sri Lanka territory and sovereignty, CEPA ("say par") – which has domestic enterprise up in arms ("say par for the course") – is Indian. Sashi Tharoor, MP, who staunchly defended CEPA and sought to persuade Sri Lankans with facile rhetoric that it is not to our disadvantage, is Indian. IIFA, of course, was Indian.
And it was Indian business chambers that brought the whole kit and caboodle of the hot Indian film awards to our backyard. Just about the only folks who are not clamouring to clamber aboard the sub-continental bandwagon are the president of this republic and all his entourage – and our homespun, home-grown, home-crowd-pleasing entertainment industry.
Although some of them are reportedly having a hard time resisting the sultry allure of the likes of Bipasha Basu…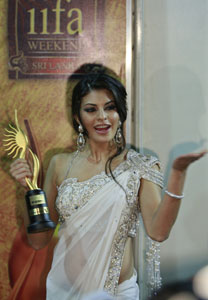 Jacqueline Fernandez with her IIFA award
Be that as it may, the point that I was trying to make before I got carried away is that all things are Indian (or seem Indian) these days is because little Sri Lanka is growing cold in the large and looming shadow cast by our giant, growing neighbour.
India was gigantic to begin with, and has fleshed out to become ginormous (there's a lovely little huge neologism) not only in the region, but as regards the world at large too. In terms of military might, political punditry, socio-economic savvy, cultural chutzpah – and now, filmic and fashionable force – it is a superpower in the making to be reckoned with.
And there's nothing alarming about that, except for the powers that be who have already cut a deal and signed the suspicious little slip of paper with fine-print at the bottom of the back page that virtually hands over the development reins to another superpower in a region a tad farther off. You know who we mean, don't you, dear?
Think trains: those slinky new power-set-type diesel multiple units that ply the suburban tracks to the exclusion of other push-and-pulls. Think airports and airport expressways. Think Hambantota Harbour. Think about the shape of things to come…
India, for one, is thinking about these things (duh, Regional Power-play 101 for Dummies). That's why we're being invaded by IIFA, CEPA, and Sashi Tharoor. But while everybody who is anybody is Indian, everything that is anything will soon be Chinese. And we'll need someone youthful with a 1,000-watt smile to shed some light farther East. Come back, Jacquie, all is forgiven?