The British Council Kandy teamed up with Vimukthi Weeratunga, the IUCN Biodiversity Co-ordinator for Sri Lanka, to hold an educational and interactive World Environment Day event for over 180 secondary school students and teachers.
Held at the British Council's premises on June 4, the event included a lecture on endemic and endangered animal and plant species on the island, a fun team quiz on Sri Lankan animal species by British Council Green Champion, Billy Lee, and a showing of 'Animal Planet's 'Save our Species' cartoons.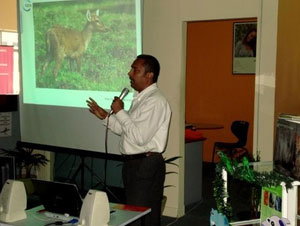 Vimukthi making a presentation
According to the International Union for Conservation of Nature (IUCN)'s Red List of Threatened Species 17,291 species are considered to be at serious risk, posing a real concern to our fragile ecosystems. In his presentation Mr Weeratunga highlighted the incredible biodiversity of Sri Lanka's flora and fauna, pointing out the 51 endemic freshwater crab species in Sri Lanka as an example of the need for us to preserve the environment against the destruction caused by habitat loss, pollution, global climate change, overexploitation and the introduction of invasive species.
He also stressed the importance of preserving chemical compounds found naturally in the environment which provide valuable medicinal drugs and research data. At the end of his session he handed out snake leaflets to the children to help spread awareness of how to identify dangerous snakes and stop the indiscriminate killing of harmless species.
British Council Branch Manager Nick Kendall invited participants to contribute their ideas for helping to save the environment by adding footprint messages for the public on the main noticeboard. Some of the students' ideas were:
Recycle, Reduce and Re-use
Say no to polythene
Don't throw litter on the streets
Save energy - switch off lights
Have a compost bin at home
Set AC units at a maximum of 25 degrees
Plant trees to help offset your carbon footprint
The British Council Kandy Green Club was also launched. Linking up with other nature clubs and environmental groups the club intends to combat climate change and create a greener environment both inside and outside Kandy's city limits.