The audience made up of humans and dogs watched with approval as US ambassador Patricia A. Butenis presented a donation of Rs.10,000 to Sagarika Rajakarunanayake, to honour her role in helping street dogs or in her words "community dogs" through Sathva Mithra, the organization she set up for this purpose.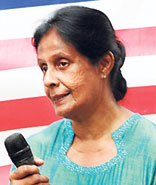 Sagarika Rajakarunanayake
Four years ago, she was successful in encouraging the government to adopt a "no kill" directive for the street dogs. Her drive was to administer the anti rabies vaccines to them and sterilize them instead. Sagarika founded Sathva Mithra in 1993 in a bid to help animals in need and fight for their cause.
American Chamber of Commerce Vice President, Vijaya M.B. Ratnayake, said, "There are many organizations in Sri Lanka working to boost the conditions of animals in the country. While others work at housing these animals, Sagarika attempts to get these street dogs sterilized.
Sterilizing a dog costs about Rs 1,800 and that's a lot of money. In order to accomplish this endeavour, she needs help." For Sagarika, 'community dogs' are part of each person's life.
"The dogs living on the streets are part of our lives. They are the community dogs and they survive because people feed them," Sagarika explains.
She herself has rescued about eight dogs and a dozen cats from hideous conditions, and they have a home with her. Among them is Mac, a daschund, with a spinal injury which she nursed back to health.
Asked when the affinity towards helping needy animals began, she reminisces that since childhood, she had always been interested in helping animals. "I inherited this tendency from my mother. She used to bring in animals from the streets that needed help. I grew up experiencing this."
US ambassador Patricia A. Butenis herself an animal lover selected Sagarika's organization as the beneficiary for part proceeds of the money collected at the Ambassador's ball which is provided to the organization of the Ambassador's choice.
The canines present on the occasion belonged to Shevanthi Jayasuriya, who had come with the dogs she had rescued from the streets to support her friend.
"It is due to her single handed campaigning that the no kill policy was brought into place. As an animal lover I admire Sagarika's work and her efforts to help animals," Shevanthi said.