Another fascinating Indo-Pakistan clash went down to the wire almost, as Harbhajan's tail-end heroics ensured that his team knocked out the opponents out of the competition. India's depth in batting won the day. But, one can't help feeling that Pakistan's bowling indiscipline at vital moments, together with some shoddy fielding cost them the game.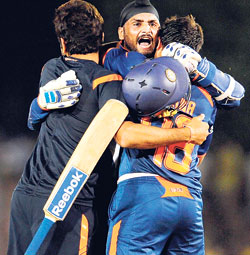 India cricketer Harbhajan Singh (C) celebrates victory with teammates following the fourth One Day International (ODI) cricket match of the Asia Cup between India and Pakistan at the Rangiri Dambulla International Stadium in Dambulla. AFP
Akhtar and Aamir were at the fiery, yet restrictive, best when the Indians began their reply to the Pakistan total of 267. The usually scintillating Shewag took thirteen balls to get off the mark. The battle had really been joined, five overs produced a measly fourteen runs.
The trickle turned into a minor flood in the next five overs as 32 runs were scored. Aamir's fourth over, which was a bit loose, went for eleven runs. Gambhir broke the shackles with a slashing four and Shewag continued the aggression with a slashing drive to the cover boundary. This was off Razzaq who replaced Akhtar, whose initial burst was impressive for its pace and hostility.
Kohli got going with a classic cover driven four off Aamir. He stroked the ball well in a neat innings, until he cut at an off break, missed and was castled. He was certainly livid with himself. Dhoni embarked on a partnership with the persevering Gambhir and they were helped by some shoddy fielding. Dhoni was let off by the younger Akmal who dropped a hot drive at short extra.
A little later, Gambhir gave Malik the charge and lofted to long off where Aamer dropped a relatively easy chance. This pair stepped up the tempo with plenty of well placed singles and a straight six off Malik by Gambhir for good measure. The approach worked like a charm at 164 for 2 after 33 overs, India was in the driving seat and the Pakistani attack functioning more in hope than with certainty.
At 83 Gambhir succumbed to the spin of Ajmal, cutting at a straight one and being bowled. His was a good innings and a lot of credit was due to him. Sharma who replaced him did not suffer by comparison with Dhoni, even outscoring him initially. But at 22 he was declared lbw pushing forward to Afridi. He may have been hard done by.
At this point Dhoni went into a shell and hardly scored a run. His departure came about when dragged a harmless leg side delivery on to his stumps via the back of the bat. One couldn't help feeling that wouldn't have happened had he been his usual dominating self.
It could have been anybody's game then but Rhina lashed out successfully and in tandem with Harbhajan edged his team close to victory. It was left to the firstly, combative Harbhajan who had earlier swinging Akhtar for six over long on to repeat the strike, this time off Aamer to signal the victory.