Sri Lanka Cricket does not find any qualms about the lighting system at the Rangiri Dambulla International Cricket Stadium, where the Asia Cup Cricket Tournament is being conducted.
There were some reservations and criticism about the light system at the Dambulla Stadium which included Sri Lankan fast bowler Lasith Malinga who had some cross words on the matter.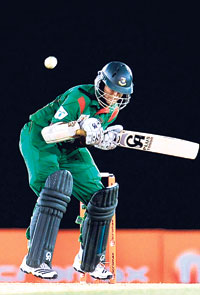 Bangladeshi cricket captain Shakib Al Hasan avoids a bouncer off Sri Lankan pacer Chanaka Welagedera while batting under lights during the third One Day International (ODI) cricket match of the Asia Cup between Sri Lanka and Bangladesh at the Rangiri Dambulla International Cricket stadium..
Operations Manager Sri Lanka Cricket Ashley De Silva however found no hidden devils among the lighting system. When asked about the comments that have cropped up regarding the lighting system at the Dambulla Stadium he said: "This is not the first occasion that an international cricket match is or was being conducted at the Rangiri Dambulla International Cricket Stadium.
"There were Match Referees appointed by the International Cricket Conference at all those matches and still we have not received any feedback or complaints with regard to the lighting system. Had there been any reservation it would have been the ICC who would have clamped down on the facilities at hand at the venue and we have heard none."
However he added that he was aware of some loose talk among the players about the lighting system, but there had been no official complaints about it. He also added: "Both sides batted second in the two matches played so far and it appeared as if they had no such problems with the lighting system and in fact both sides -Pakistan and India batted very well in spite of taking the second turn".
De Silva also said that even the slight delay with regard to a power failure during the second match which was played between India and Bangladesh was brought under control within a very short period with chief curator Anuruddha Polonnowita taking prompt action to restore the light system and get play back on track."
However during the Sri Lanka –Bangladesh game Indian cricket expert Ravi Shastri reiterated that it would be very helpful to the cricketers in the middle if authorities could upgrade the lighting system at the Dambulla Stadium.