St Joseph's College Colombo and Mahamaya College Kandy emerged champions at the Pentathlon Swimming Championships 2010 concluded at the Ananda College swimming pool in Colombo yesterday.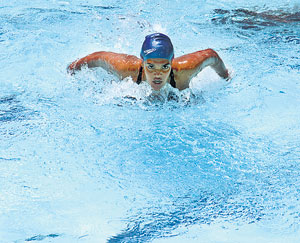 Madhavee Weeratunga of Mahamaya Kandy winner of the Under 19 100 meters Freestyle event in action.-Picture by Ranjith Perera
The two champion teams ended on 45 points each with Trinity and Vishaka Vidyalaya taking the second places in the two categories. Asian International School put in a fine performance to secure the third spot in the boys' category.
There was only one record established in the two day meet which was by Asian International School swimmer Mathew Abeysinghe who set a new record of 1.04.30 seconds in the Under 16 100 metres Butterfly event eclipsing the record of 1.05.08 seconds set by Suvan Cabraal in 2009.
The champions in the respective age groups were Under 10 – (Boys) Pahan de Silva (DSS). (Girls) Devindya Gunawardena (Mahamaya Kandy). Under 12 – (Boys) Dineth Sanjula Jayakody (Maris Stella Negombo). (Girls) Lashini Ranasinghe (Southland Galle). Under 14 (Boys) Akshaya Kumarajeewa (St Joseph's Colombo). (Girls) Hiruni de Zoysa (Hillwood Kandy).
Under 16 (Boys) Mathew Abeysinghe (Asian International School). (Girls) Nadeera Jayasekera (Vishaka). Under 19 (Boys) Heshan Unamboowe (Trinity) (Girls) Madhavee Weeratunga (Mahamaya Kandy). Men Open - D. Dissanayake (Air Force) Women Open – H.Y. Weeratunga (Air Force).-