In a match brimming with flowing attacking moves, the footballers from Navy managed to register a hard fought 2-1 victory over Nandimithra to clinch the Holcim FA cup.
The sailors got their two goals from Malik Migara and Prasad Lakshitha while Nandimithra earned their goal through Chammera Krishantha. This is the first time Navy has won the Holcim FA.
Nandimithra will look back at the match and rue the fact that they missed a host of chances which if converted perhaps would have swung the result their way.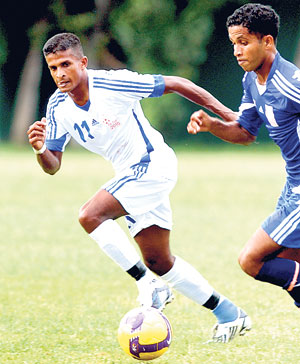 A Nandimithra defender runs with the ball. Pic by Ranjith Perera
From beginning to end both teams played solid offense, going at each other relentlessly with deadly runs and shots at goal. However in the 23rd minute Navy broke deep into Nandimithra territory and slipped an accurate cross into the box which a leaping Migara directed with his head into the corner of the net.
This served to shock Nandimithra into action and they proceeded to hold possession consistently until in the 36 minute they won a free kick deep in their opponent's half. Chammera Krishantha then stepped up and whipped the ball exquisitely over the wall and into the bottom corner of the net.
Nandimithra should have equalized immediately afterwards, but Sunanda Sagara, with only the keeper to beat, could only clip the top of the bar.
When the teams came out for the second half they both showed the same enterprise they displayed in the opening half. However Navy had the better share of chances and repeatedly troubled the Nandimithra goalkeeper.
Navy's energy and activity on the offensive end paid off in the 73rd minute. Prasad Lakshitha was picked out with a brilliant long pass, a few yards in front of the penalty box, and he in turn produced an equally deft finish to put Navy ahead.
Nandimithra had a brilliant opportunity to level proceedings when they were awarded a clear cut penalty in the 83rd minute. However Chammera Krishantha's shot found the keeper and all hopes of a Nandimithra comeback faded.