Saudi King Abdullah bin Abdulaziz Al Saud has directed officials to hold talks with the household in which a Sri Lankan female domestic is alleged to have murdered a toddler in her charge as discreet diplomatic efforts were underway to secure her release, a senior official said yesterday.
The maid-Rizana Razeek has been placed on death row after Saudi Arabia's highest court found her guilty of smothering the child to death. The maid has denied the charges saying that the child had choked during a milk feed.
The External Affairs Ministry's Consular Chief Somadasa Wijeysundera said the King was responding to President Mahinda Rajapaksa's appeal seeking clemency for Rizana. Apart from the King, the dead child's parents could also give a pardon or settle for blood money, Mr. Wijeysundera said.
Meanwhile several other diplomatic efforts have been stepped up both in Riyadh and other foreign capitals to gather support for the release of the maid, he added. "Our envoys in several countries both in the West and elsewhere are working closely with those respective countries towards this end. The response is encouraging but the process is slow because it needs a lot of diplomatic patience and understanding," he said.
According to reliable information even Britain's Prince Charles is reported to have approached the Saudi Royal family seeking clemency for Rizana.
More than 20 nails
By Pushpa Kumara Jayaratne
The Government has called for a full report from Sri Lanka's envoy in Kuwait City in connection with the second case of an alleged nailing of a housemaid by her Arab employer in that country, a senior official said yesterday.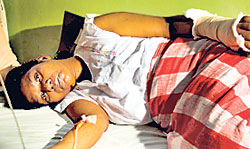 Letchumi in hospital
External Affairs Minitry's Consular Affairs director Somadasa Wijeysundera said a report was expected in Colombo tomorrow and thereafter follow up action would be taken. He said Sri Lanka's envoy K.S.C. Dissanayake has already taken up the matter with Kuwaiti authorities and was expected to provide a feed back to Colombo.
The victim- V. R. Letchumi 30, a resident of Ibbagamauwa Gokarella had alleged that her employer and two other members of the family had repeatedly inserted nails into her body when she asked about her wages.Doctors operating on the victim at the Kurunegala Hospital have already removed nine nails from her right hand and left foot. X-rays and scans show there are at least another 14 such objects in her body and these will be removed in the coming days, hospital officials say.