The torrential rain earlier this week resulted in as many 12 trees crashing down in the Colombo city. Many more are said to be unstable and may fall at any moment according to residents.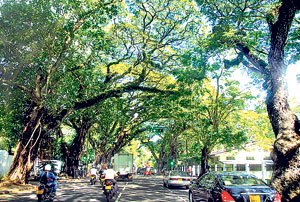 A road lined by huge trees
Lalith Wickremaratne Director Engineering Land and Environment of the Colombo Municipal Council told the Sunday Times, trees located at Jawatha Road, Thurstan Road, Eliot Place, Mihindu Mawatha and at the famous "Gas Paha Handiya" in Pettah were among those areas which fell during last week's storm.
Mr. Wickremaratne commenting about the precautions to be taken to avoid or minimize the damage and inconvenience caused by falling trees said, the municipality would be taking steps to prune large trees and thereby minimize the danger of them falling and damaging life and property.
He added while four vehicles were damaged when a tree at Gasworks Street (Gas Paha Handiya) collapsed, no casualties had been reported.
Residents pointed out that some of the large trees beside the pavements appeared to be in danger of collapsing as the roots are prevented from spreading because of the concrete structure around them.
Parents expressed concern about trees in the vicinity of schools in Colombo, claiming they could endanger the lives of children attending these institutions.
"We have brought this to the attention of the CMC, but no action seems to have been taken. Municipal authorities very rarely lop off the branches of trees," said Wijayani Amaraweera a resident of Gregory's Road.