What would Lionel Wendt himself have made of his most enduring legacy? The exhibition spaces, the theatre and the galleries housed within the complex his dear friend Harold Peiris erected in memory of him, have lasted over half-a-century. It has afforded space to which all kinds of artistes have thronged, where painters, dancers, musicians, singers and actors have plied their trade. It has created a viable, thriving space for the Arts in the centre of a busy city – one imagines that Wendt himself would have been pleased.
Most so, possibly, by the Wendt's reputation as a venue where theatre has been performed in a multiplicity of languages. This has been the case from the very beginning: having opened in 1953, the stage was inaugurated by Jubal's production of "The Lower Depths", closely followed (in 1956) by Ediriweera Sarachchandra's ground-breaking Sinhala play "Maname". Then in 1961, Chitrasena's ballet "Karadiya," had its debut at the Wendt.
To know that the Wendt is as vibrant as it ever was, one need only look at the roster of artistes performing to mark the 110th Birth Anniversary of Lionel Wendt. Many had their maiden performances or exhibitions here. They remember the Wendt as it used to be – before there was air-conditioning, before there was a balcony. But there are, today as well, a number of much younger artistes – some barely out of school – who have taken their bows before a packed houses already.
That they will all be there to honour Lionel Wendt's memory is telling. On from November 16 – 20, 2010, from 10 am. – 7 pm. daily, the festival will include music and dance, art, sculpture and photography. There will be a number of artists exhibiting in the centre's two galleries. For a glimpse of what made Lionel Wendt one of Sri Lanka's most iconic photographers, don't forget to see The Art Centre Collection of Original Lionel Wendt photographs, which will be on display. For those looking for a little more insight into the artist, Menika Van Der Poorten will be presenting a critique titled, 'Lionel Wendt and his camera work' at 5 pm at the Harold Peiris Gallery on November 20th.
The Song of Ceylon, produced by Basil Wright and narrated by Lionel Wendt himself, will be screened at the Lionel Wendt Theatre on November 17 at 6 pm., with an introduction by Richard Boyle. This will be followed by a documentary on Lionel Wendt by Dharmasiri Bandaranayake, entrance for which is free of charge.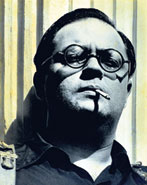 The maestro Lionel Wendt
The Festival will also bring together several well known artistes. On Thursday, November 18, the cream of the country's western musical talents- Ramya Perera, Ananda Dabare, Dushy Perera, Soundarie David, the De Lanerolle Brothers, Preshanthi Navaratnam, Eshantha Pieris and Natalie Gunaratna will take the stage in a concert devoted to Classical music.
On Friday (19), the stage gets a little more crowded as several award-winning Sri Lankan choirs step up. Revelations, Soul Sounds, Merry An Singers, Peterite Chorale, Old Joes Choir and Menaka Singers will all perform signature tunes. The last concert on Saturday (20) is devoted to dance, with variety here to tempt any palate: Mohan Sudusinghe (Kandyan Dance), Dance Works Centre (Hip Hop/Jazz Ballet), Tony Fernandez (Latin American), Ravi Bandu Dance Ensemble (Traditional), Senaka Abeyratna (Modern Dance), Wendy Perera and Rangika Jeevantha(Classical Ballet) and Temple of Fine Art ( Bharatha Natyam) on the cards.
The first Memorial Festival, is likely to inspire a series of annual events, say the organisers of the festival. They're hoping that future years will allow them to incorporate more art forms, including that which the Wendt is most famous for hosting – theatre. The only problem they envision is making space on the calendar - with the Wendt so much in demand, there's always a shortage of available dates. Fortunately, no one loses, say the Trustees.
We'll never need to dedicate days to a memorial, for as long as the Wendt continues to host local artistes and showcase their art, it will be accomplishing exactly what it was built to do. Tickets are available at the Lionel Wendt box office open today and are priced at Rs 1,000, 750, 500 and 300 for balcony. Season tickets that allow entrance to all three concerts are priced at Rs 2,000. Main sponsors for the event are The Royal Norwegian Embassy. Co-sponsors are Leo Burnett. Media sponsors are MTV for electronic and the Sunday Times for print.