The Lessons Learnt and Reconciliation Commission (LLRC) on Thursday and Friday heard from several prominent persons from the Jaffna district, including wives of prominent LTTE leaders reported missing.
Jayavathi, wife of one time LTTE politburo member Yogaratnam Yogi, claimed that, her husband had surrendered to the military, along with several senior LTTE cadres, but they have not been heard of since then.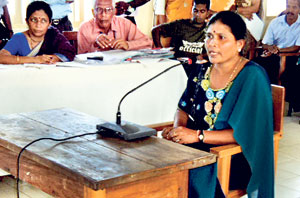 Mrs. Jayavathi Yogi: Where is my LTTE husband who surrendered?
"My husband Yogi, Puthuvai Ratnadurai (in charge of the LTTE's fine arts division) Lawrence Thilakar (in charge of the LTTE's European division), Baby Subramanian and some others surrendered to the military at Vattuvahal on May 18, 2009. Rev Frances Joseph was also there, and they were all taken way in a bus. We have not heard from them since then", Mrs Yogi told the Commission.
She pleaded with the Commission to assist her trace the whereabouts of her husband. Former Vice Chancellor- Jaffna University, Prof. P. Balsundarampillai blamed the Sinhala Only Act for the troubles between the Tamils and the Sinhalese, and non implementation of the Official Language Policy, as contributing to the continuation of the problems.
"Tamil medium students are around 23%, but the percentage of Tamil speaking persons in the administrative service is below 5%. We have Tamil identity, Sinhalese identity, Muslim identity, but have failed to create a Sri Lankan identity," he said.
A delegate of the Jaffna Diocesan Laity Council, A Shanthipillai addressing the Commission, said that it is disturbing that the Government, even after 17 months since the war ended, has not indicated the type of political solution it hopes to put forward.
He also urged the LLRC to try and find the real cause for all the disturbances of the past five years, and to recommend viable, just and effective approaches to solve the long festering problem.
Meanwhile, President- Sarvodya Movement, Dr A.T. Ariyaratna, in his submissions to the LLRC in Colombo on Tuesday (9), said that, "the State should be sensitive to the feelings, needs and aspirations of the people in a plural society and take adequate note of actions by non State organisations. State machinery such as the CID and other intelligence services, maintained at taxpayers expense, should not be used to hunt down opponents of the government in power, but instead, for purposes of real national security," he said.