PARIS, March 20, (AFP) - French President Nicolas Sarkozy today announced the launch of military action in Libya, backed by Western countries and Arab allies, to stop Moammer Gaddafi's offensive on rebels.
A French warplane opened fire on a vehicle in Libya at 1645 GMT, the first shot in an operation to enforce a UN resolution calling for a no-fly zone and protection of Libyans from Kadhafi's forces, the French military said.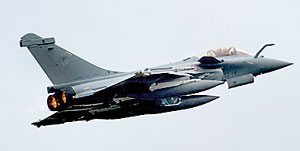 A French Dassault Rafale combat aircraft,on a mission to Libya. Reuters
The first shots came after Sarkozy agreed at a Paris summit with European leaders, US Secretary of State Hillary Clinton, UN Secretary General Ban Ki-moon and Arab League envoys to use air power to enforce the UN resolution.
"In agreement with our partners, our air force will oppose any attack by Colonel Gaddafi's planes on the people of Benghazi," Sarkozy said, referring to the Libyan rebels' bastion. "Our planes are already preventing air strikes on the city," he said.
Sarkozy added that planes were ready to intervene against tanks that "might threaten unarmed civilians."
Around 20 warplanes were involved in operations over Libya, the French defence ministry said. France has about 100 warplanes, mainly Rafale and Mirage 2000 jets, and its aircraft carrier Charles de Gaulle will steam toward the Libyan coast on Sunday. The French air strike targeted a Libyan military vehicle that was threatening the civilian population, the French military said.
British Prime Minister David Cameron held Gaddafi responsible for the situation and said that "the time for action" by the international community had come.