Authorities here are putting in place safety measures in the event radioactive particles enter Sri Lanka's atmosphere following a series of explosions at Japan's earthquake- stricken Fukushima nuclear power plant.
Atomic Energy Authority chairman W. Abeywickreme said the United Nation's main nuclear watchdog, the International Atomic Energy Agency (IAEA), had instructed countries to be on alert and take precautionary measures.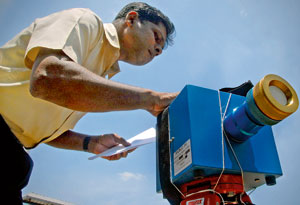 Air testing in Colombo. Pix by J. Weerasekare and Sanka Vidanagama
"A special unit has been set up to screen Sri Lankan arrivals from Japan. The unit at the Atomic Energy Authority premises in Orugodawatte in Baseline Road will operate round the clock to check whether there was a high level of radiation or radioactive particles on arrivals from Japan," he said.
Prof. Abeywickreme said that depending on the degree of exposure they would be advised to get medical check-ups and if deemed so advised isolation from families for a couple of days.
"Unfortunately we are unable to carry out the checks at the airport itself due to a shortage of qualified personnel. At present they have all been deployed at the Orugodawatte unit. However notices have been put up and regular announcements are being made at the airport informing the passengers about the unit," he said.
In addition to scanning individuals, the AEA is also monitoring the air. "There are two stationary monitoring devices -- one in Colombo (Orugodawatte) and the other in Kandy (Hantane), while a portable monitoring device is being taken around the country to test for any radioactive substances in the air," Prof. Abeywckreme said.
However, sounding less alarming, the AEA chief said the Meteorology Department had forecast an easing off of winds blowing from the northeastern direction as the North East monsoon was in its final stages.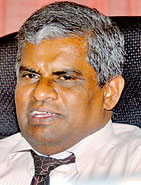 Prof. Abeywickreme - As a precaution it is important to remain indoors especially when it rains at least for about a month following the incident, because it may take about three weeks for the clouds carrying any nuclear particles to be blown over Sri Lanka. We will continue radiation checks on vegetation, grass, milk and inland water sources."
"But as a precaution it is important to remain indoors especially when it rains at least for about a month following the incident, because it may take about three weeks for the clouds carrying any nuclear particles to be blown over Sri Lanka. We will continue radiation checks on vegetation, grass, milk and inland water sources," he assured.
Colombo University's Physics department head Dr. S.R.D. Rosa said the dangerous radioactive substances that may come to Sri Lanka through inhaling or other means are Strontium 90 (Sr 90), Caesium 137 (Cs-137), Krypton-85 (Kr-85) and Iodine-131 (I-131) Strontium 90 is a radioactive isotope that has a half-life (time taken to breakdown into one or more elements) of 29 years.
It enters the bones and bone marrow and could cause bone cancer and leukaemia. Krypton-85 is a radioactive gas harmful to the human body. Caesium 137 can affect the whole body while the I-131 or radioiodine is absorbed by the thyroid glands, leading to thyroid cancer.
"As the distance between Sri Lanka and Japan is about 6000 kilometres it is unlikely that gamma rays or radiation can enter Sri Lanka. But there is a possibility of the radioactive substances or particles entering our atmosphere," he said.
He said it is important to wash fruits and vegetables thoroughly before consuming them as these food items could be contaminated only on the outside. "But if cows eat contaminated grass containing the radioactive material there is a high possibility of the milk absorbing radioactive material. It is the same with fish too. Therefore monitoring should be continued for a long period," Dr. Rosa said.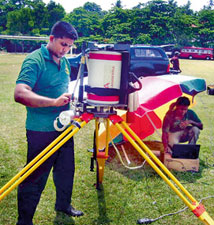 Checking the grass in Matara. Pic by Krishan Jeewaka Jayaruk
The Health Ministry's Additional Secretary Dr Palitha Mahipala said that after the Chernobyl disaster in 1986 all food imports coming to Sri Lanka were tested for radiation at the entry ports.
"The Food Control Unit of the Health Ministry, Customs and the Atomic Energy Authority are working together to prevent any food items that could contain radioactive materials entering the country," he said.
Dr. N.D.N.A. Mendis, senior lecturer in toxicology and forensic science at the Colombo University, said those coming from Japan should undergo a medical check-up and those who may have been exposed to radiation undergo annual check-ups.
"Immediate symptoms of those exposed to radiation are headache, vomiting, diarrhoea, nausea, and lethargy," he said.
Dr. Arulananthan, head of the Oceanology Division of the National Aquatic Research Agency (NARA), said the agency was observing the weather patterns and would monitor for behavioural changes among fish and other marine species.
Meanwhile Post Master General M.K.B. Dissanayake said inbound and outbound mail to areas including Hokkaido, Aomori, Aklta, Iwate, Miyagi, Yamagata, Fukushima and Ibaraki in Japan have been affected.
He said postal delays may be expected in other areas due to flight diversions and EMS items, parcels and registered items may be delayed as a result of power supply blackouts in the eastern part of Japan including Tokyo.
An External Affairs Ministry official said there are about 12,000 to 18,000 Sri Lankans living in Japan adding that two officials have gone to Japan to look into problems faced by Sri Lankans in affected areas.
Meanwhile, the International Atomic Energy Agency said iodine can be used as a precautionary measure to help protect against thyroid cancer in the case of radioactive exposure in a nuclear accident.
Japanese authorities also have recommended that people leaving the area near a crippled nuclear power plant should ingest iodine.
When the earth shook: Returning Lankans tell their tales
For thousands of Sri Lankans in Japan, last week was a harrowing one following the 9.0 magnitude earthquake that struck on March 11, a tsunami that wreaked havoc in the coastal areas and explosions at a nuclear power plant.
Following their return to the country early Friday morning, two exhausted yet relieved Lankan returnees shared their experiences with the Sunday Times.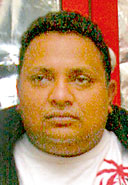 Hiran Dharmendra
"It was an unforgettable day. I was in Tokyo travelling by car on the highway when the earthquake struck. Suddenly I felt the car swaying. I panicked when I saw surrounding buildings shaking.
Soon a pipeline burst and water started gushing onto the road. I hurriedly got out of the car and it was horrible to feel the earth shake beneath my feet ," said Missaka Naween, owner of a motor vehicle importing company and former chairman of the motor vehicle importers association.
He said there were a number of Sri Lankans in Sendai, one of the coastal areas worst affected by the tsunami. "Most Sri Lankans are in Ibaraki, Tokyo and Chiba areas. The Sri Lankan community and the Mission are doing their best to help those in the stricken areas. In addition the temperature is also very low," he said.
As there was no monitoring equipment at the main Japanese airports, Mr. Naween said he went to the unit set up by the Atomic Energy Authority in Orugodawatte, to get himself screened. "My clothes had a high radioactive count, so I had to change my clothes before entering home," he said.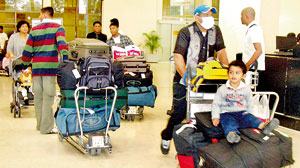 Lankan returnees at the BIA on Friday. (above and below right). Pix by N. Kumarasinghe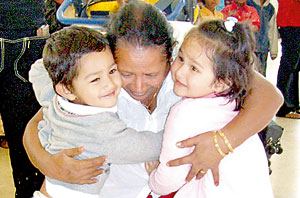 Hiran Dharmendra Dias (40), father of a one month-old baby has been living in Japan for 17 years.
"I was at my home in Tochigi when the earthquake occurred. I was working on the computer when the quake struck. It started shaking and the printer crashed to the floor.
I ran out fearing the house may collapse. People were lying on the pavements and houses were swaying.
Women were screaming and a few electricity poles with live wires had fallen to the road," he recalled.
He said at that moment he felt relieved that neither his wife nor baby was with him in Japan.
"My wife came to Sri Lanka for the confinement. I wanted them to join in about a couple of months.
But now with fears of radiation I don't want our child to be exposed," he said.
Vehicles, vehicle parts and electronic items from Japan to be screened
By Damith Wickremasekara
A radiation monitoring system will be installed at the Colombo port to screen vehicles, vehicle parts and electronic items imported from Japan. Customs Director General, Sudharma Karunaratne said they will be tested for radioactive particles and electromagnetic rays.
She said the monitoring equipment worth US$ 150,000 was a gift from the US government. Missaka Naween, owner of a motor vehicle importing company and former chairman of Motor Vehicle Importers Association who returned to Sri Lanka from Japan on Friday said Japan had halted the manufacture and export of motor vehicles, following the explosions at the Fukushima nuclear plant.
"Around 3000 to 4000 vehicles and a large consignment of vehicle spares are usually imported from Japan every month. But with importing being delayed there will be an increase in the price of vehicles," he said, adding that there was a possibility of parts of vehicles thrown up by the tsunami being imported to the country.