Three police vehicles were set ablaze by angry villagers last week in two separate incidents.
Villagers accused the police of failing to act in an impartial manner and attempting to cover-up the misdeeds of the culprits.
In the first incident the Kotahena OIC Traffic, sub-inspector Sanjeewa Herath is alleged to have been involved in a fatal accident in the Kirillawela area killing three persons. The accused SI who is said to have been driving a van, had allegedly ploughed into a motorcycle killing three persons on the spot.
Villagers demonstrated at Kirillawela along the Kandy – Colombo main road on Wednesday holding up traffic for more than four hours and later setting fire to two police vehicles.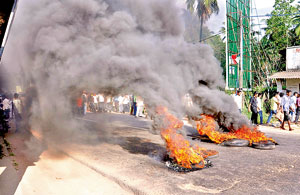 Tyres set on fire at Kirillawela. Pix by Chaturanga C. Chandraskera
Residents claimed police were delaying inquiring into the incident, in an effort to safeguard the sub-inspector involved in the accident. However, SI Gamini Weerawardena of the Werellawatta police post who investigated into the incident told the Sunday Times, the officer involved in the accident had been assaulted by the villagers and was admitted to the Gampaha hospital.
This caused a delay in producing him in court he said and added the accused was subsequently produced before the Gampaha Additional Magistrate Indika Attanayaka who remanded him until March 21.
The victims were identified as Lionel Sumanasiri, Wasantha Amaraweera and Ravindra Deepearachchi. Two of the victims were residents of Walapane and the other an owner of saloon in Kirillawela. In a separate incident at Ahangama, a motor cyclist and his pillion rider were shot by a soldier at a sentry point after they had failed to stop when signalled.
Protesting residents claimed the shooting was engineered by police who ordered the military personnel to open fire on the victim as he was a military deserter involved in criminal activities. The victim had been released on bail three days prior to the shooting
The victims were identified as Prabath Jayatillake, an Army deserter and a relative K.T. Nalaka. Visibly angry villagers attacked a police team with bricks and stones when they arrived at the scene, causing them to retreat.
Once police retreated from the scene villagers burned their abandoned jeep. The weapon used in the shooting had been taken into custody and the investigations have been handed over to the CID.