The Maha Oya-Chenkaladi Road in Batticaloa has yet another bridge that is coming apart. The four-kilometre stretch of road, nicknamed "golden" because it was rebuilt at a staggering Rs. 411.87 million, extends from the 280-km post to the 284-km post; the unstable bridge is near the 283-km post. According to Y. Dharmarathnam, provincial director, Road Development Authority (RDA), the bridge was built 70 years ago, and was considered to be in "good condition."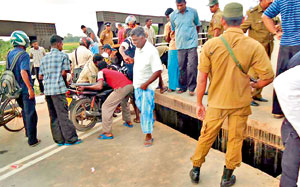 The 70-year-old 'black bridge' that was recently declared to be in 'good condition' has split in two. Pic by S. Adiran
"The recent floods have undermined the foundation and the bridge has split and is tilting," Mr. Dharmaratne told the Sunday Times. The bridge will be repaired, not replaced, he added.
The firm awarded the contract to rebuild the Maha Oya-Chenkaladi stretch of road is V. V. Karunaratne and Company.
The firm's general manager, Stanley Modemore, said the bridge, referred to as the "black bridge", was not on the contract, although the company had "painted and carpeted the black bridge." "I examined the bridge and found it in excellent condition," Mr Modemore said. "It requires modern technology. The foundation was affected when floods hit the area."
The government tender to rebuild the road came just after the East was liberated. In May 2008, three contractors offered bids. All three contractors told the Sunday Times that they were compelled to factor post-war conditions in their cost estimates. The road crosses what was formerly a heavily mined war zone. But when the road rebuilding actually got under way, it was found that most of the conflict-related obstacles had been eliminated.
"When we bid for the tender, we increased the price because of the post-war conditions," said Mr. Modemore of V. V. Karunaratne and Co. However, the company faced many difficulties, he said.
Construction work began in November 2008, but was halted a month later because of landmines. After the area was cleared, construction resumed in May 2009, almost two years after President Mahinda Rajapaksa had declared the East liberated.
He said the original contract included the reconstruction of four bridges dotting the four-kilometre stretch. While work was in progress, a variation order was issued to include seven other bridges for reconstruction. "The cost estimates had to be modified," he added.
Another bidder for the Maha Oya-Chenkaladi project was Sierra Construction. Dushantha Hathurusinghe, chief operations officer of Sierra's roads division, said the on-the-ground situation around the Maha Oya-Chenkaladi area was very different in mid-2008, with the war raging in the North and de-mining and relief work in the East.
A senior official at the Asian Development Bank, which funds the RDA, said the cost of rebuilding the bridges was greater than the added costs attributed to war zone conditions. "More than Rs. 250 million was spent on the bridges," the spokesman said.