He had made good Down Under leaving the shores of his motherland back in the early 1970s. Life was comfortable and many were the roads traversed and milestones passed both in his professional and personal life.
Ron Ragel was 51 when he woke up one morning in 2002 at his home in Sydney to find that he couldn't speak or move the right side of his body, both his right hand and leg were leaden burdens. He was paralysed………suddenly his world had come crashing down.
The person who greets the Sunday Times last Tuesday at his temporary holiday home in Mount Lavinia talks and walks with ease. The speech is not slurred as this 60-year-old, looking much younger, says a bright and smiley hello, shaking hands firmly. There is only the mildest indication of a little trouble with his right leg, a slight drag. The passion of his life had been the lifeline that dragged this stroke victim out of the abyss of ill-health and disability.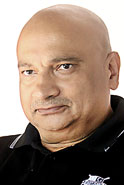 Ron Ragel
It was music therapy, stresses Ron, explaining that everything happened quickly and fortuitously. Yes, he was rushed to hospital -- where he was confined to a wheelchair for a number of days -- with the treatment for an ischaemic stroke (when the blood supply is blocked to a part of the brain by a clot) and physiotherapy starting immediately.
The long haul, however, came once out of hospital. Ron who had taken for granted the finger-work needed as a musician, was bereft of his skills. He couldn't use his fingers. "Mentally I was preparing myself to teach rather than play music," recalls Ron who had resigned himself at that time to his plight but made up his mind that he would somehow recover.
"I was dropped off at a supermarket by my wife soon after I had gone home after my illness, to get milk and I just stood in the middle not knowing what to do – the world around me, of course, was going on as usual," he says of that day when he ventured out for the first time.
One year after, this promoter of music therapy had put his disability behind him and was playing as well as before and even now so many years after, there is excitement and earnestness in both voice and demeanour when he talks about it.
He delves into the brain to show how music may be used as a healer – a therapeutic tool. (See box)
The love of music was instilled in young Ron in his family home at Wellawatte. Playing the violin as a six-year-old, he was also nurtured in music at St. Peter's College, Bambalapitiya, with its tradition of music, where he was a chorister under the singing priest Fr. Claver Perera, now no more.
After emigrating to Australia, the early 1970s saw him and a few other Sri Lankan expatriates including Alston Koch jamming together and blossoming as the first all-Asian music group in that country. Ron, an instrumentalist, played the bass guitar in the band.
It was aptly as 'Dark Tan' that they performed during that era of pop-disco. Towards the end of that decade he went into production and also event management by setting up Global Network Productions, an internationally renowned music record label of which he is Managing Director.
Winning the bid for the Sydney 2000 Summer Olympic Games, Australia was drawing people from a mix of cultures. By the time the country hosted the Olympics, 220 nationalities were calling it home and Ron was not only assailed but also enthralled by music from all over the world…………from India to Africa, the Middle East to Latin America and the Caribbean. Ron's company was involved in many of the events surrounding the Olympics.
The strongest lure came from India in the 1990s and that's where he travelled widely to study traditional Indian classical music. "I thought being a musician was just picking up an instrument and playing with the Master, but that is not the case. First it is about learning to breathe properly, he says. "Usually we take shallow breaths because life is so rushed. When the breath stops, life is over. At the distinguished music centres in India much time is spent on learning to breathe before you play an instrument." He also embraced the art of the sitar.A professional milestone which later became a personal one was reached in his life's journey in 1997 when he teamed up with musician and composer Vicki Hansen who would later become his wife.
Ron details the achievements of Global Network Productions with the husband-wife duo emerging as leaders in the global music scene. Recognized as leading composers of raga sangeet/sacred music after releasing 11 CDs worldwide, they have recently signed a worldwide recording contract with music industry giant Sony Music International.
Their company also composes music for 'Dateline', a premier international current affairs programme telecast on SBS TV, he says. He is excited about an e-mail he had received while in Sri Lanka which in fact made him cut short his holiday and leave for Australia to work out the nitty-gritty. Global Network Productions had been requested to produce the music, "obviously with a Sri Lankan flavour" for a 10-episode cookery show, 'My Sri Lanka' to be telecast in Australia in September by popular Lankan-born chef, Peter Kuruwita, who runs the 'Flying Fish' restaurant over there.
Whatever we talk about the conversation veers back to music therapy. Learning music by reading notes will activate the left side of the brain but Indian classical music rooted in the aural tradition stimulates the right side. Reading music acts as a barrier when composing music and later improvising, says Ron. The guinea pig has been his son. Rohan who is only seven years old plays the classical music piece, 'Pachelbel's Canon' without being able to read music. The brain is not limited to the left lobe and music can easily be remembered as a pattern of sequences without looking at notes, according to Ron.
Having come as a volunteer to help Sri Lanka soon after the tsunami, Ron believes that it is "payback time" to his motherland. Discovering a positivity not seen before in Sri Lanka, he wants to go deeper into music therapy right here through concerts, workshops and talks.
Thirty-odd years after he left the country of his birth, he is hearing the word "stress" from everyone he meets in Sri Lanka. Those days stress was a word from the west, he laughs. Having worked with celebrities, sportspersons, TV personalities and entertainers in Australia, Ron has resolved to "tune into music therapy" in the new year of 2012 with Sri Lankans. His heart seems to be right here when he admits rather reluctantly that although he wants Australia to win the World Cup……..his innermost desire is for the country of his birth to capture it.
A calming tool
Describing not only how the brain works but also music therapy's impact on it, Ron says the left side of the brain is responsible for language and reasoning processes and the right side for spatial perceptions and creativity including music.
When affected by stroke, the brain can be taught to shift the functions of the left side by associating music with language. It's a rewiring process of the brain, using music as a therapeutic tool, according to Ron who goes on to explain that listening to good music also releases the "happy" chemical dopamine which sends you to bliss. Sex and chocolates as well as drugs and alcohol do the same, he says, quickly adding that drugs and alcohol, however, have disastrous consequences unlike music.
While performing music, acts as a relaxant and stress-reliever, the Sunday Times understands that listening to certain music among other positive aspects lowers the heart rate, blood pressure and muscle tension in addition to boosting immunity. Advising that no one should abuse their body, thinking that music will do it all, he says it is equally important to maintain a proper lifestyle and diet.
Remember that we still have the same "software" (brain) with new pressures with life going at a faster pace, Ron points out, adding that music is lovable and likable. A good tool to make us calm and relaxed.
He has completed an e-book on the healing power of music which is now accessible on the web.