Renowned dramatist Dayananda Gunawardena's popular stage play "Naribena" which went on the boards for the first time on March 1,1961 completes 50 years this year. To mark this milestone, the Nalu Keerthi Sabha Theatre Group set up by the late Mr. Gunawardena will present a special performance of the drama on April 4, at the John de Silva Theatre at 6:45 p.m. Professor Tissa Kariyawasam and film and theatre personality Jackson Anthony will also address the audience.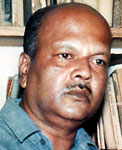 Dayananda Gunawardena
Chairperson of the Nalu Keerthi Sabha Mrs. Irangani Gunawardena said that this commemoration ceremony is open to all theatre enthusiasts. "Even after Dayananda Gunawardena's untimely demise, this masterpiece has continued to entertain both the young and old here and abroad for the past 50 years due to the dedication and hard work of artistes, musicians, singers, technical staff and organisers," she said.
At the time he wrote "Naribena" which was based on two folk tales, Dayananda Gunawardena was a Geography teacher at Kegalu Vidyalaya. Later the play was staged as a school production at Thurstan College, Colombo on November 4, 1960. Music was composed for the play by Lionel Algama with the choreography by Basil Mihiripenna.
Following its maiden public performance in 1961, "Naribena" staged by the Amateur Theatre Society passed its 100th milestone within a year and eight months. "Naribena" became an instant favourite in the 1960's and was highlighted in the media at the time as having been viewed by every 125th person in the country.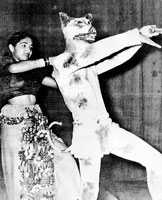 Naribena in its early days
Its audience was further broadened when "Naribena" was staged in Tamil as "Nari mapulai" in 1963. Later, in 1978 under a cultural exchange programme, the play was translated into German and was staged in West Germany with German actors and actresses directed by Dayananda Gunawardena.
'Naribena' has also been included into the Sri Lankan school curriculum.
The cast includes Bandula Wijeweera, Rodney Warnakula, Neil Alles, Sarath Kulanga, Rathnasheela Perera, Ferni Roshini, Kumara Liyanage, Indika Jayasinghe, Indika Ramanayake, Shalika Wanigaratne, Kanthi Jayawickrema, Sujani Nisanka and Mahesh Amarakoon. Music direction is by Pubudu Roshan Walpita. Stage management is by Asoka Jayasinghe and makeup is handled by Prakash Galgewela.