What happens when Gabriel Garcia Marquez meets Fight Club? This April, Tracy Holsinger and The Mind Adventures Theatre Company will present their new play 'Rondo,' an allegorical tale of a town that chooses to isolate itself from the world after an act of violence. It is influenced not only by Marquez's Chronicle of a Death Foretold and Edward Norton's unreliable narrator, but by Akira Kurosawa's Roshomon and Sherwood Anderson's short stories.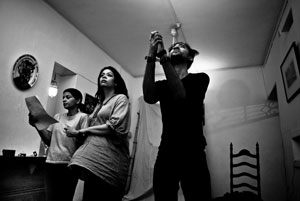 Scenes from My Other History (above) and (below) Rondo
Running side by side is another play, this one directed by Jake Oorloff of Floating Space. Inspired by a true story, 'My Other History' is an intimate account of a mother's attempts to share her memories of a life that no longer exists with her son and of a father's struggle to move on. Created at the invitation of the Sunethra Bandaranaike Trust, both plays share a common theme – reconciliation.
The set is titled (Un)making Time. Though the plays were created in isolation, they still have much in common – each is seemingly propelled by an overriding need to revisit, rewrite, rethink, retell and reinterpret not only official histories but individual memories. "Both our stories are so similar," says Tracy, "We're looking at history and how that shapes the future... It's also this idea of a shared history and how you can find something and retell it in a way that includes more people." Jake says that upon learning of the theme, he was initially "very uncomfortable with the idea of reconciliation," in part because much of the work he had seen on the subject was very prescriptive. Overwhelmingly, he felt the need to challenge the idea of a single history – "I am chiefly concerned with having many voices documenting history," he says, "I think 'one' history is very dangerous."
In their own ways, both plays make room for multiple voices and alternate perspectives and thereby seem to suggest that reconciliation can begin once these differences are acknowledged. "Everyone has their own version of what happened, everyone's lives are shaped by their perceptions of what happened. How does a diverse community reconcile their history?" asks Tracy. "If we are to become one nation than we need to have one history that accommodates the victims as well as the aggressors; which deals fairly with everyone, a story that is acceptable to all."
Both companies also share an aversion to producing didactic plays. In 'My Other History' Jake hopes to take his audience beyond the black and white lists of government statistics and into the personal significance those numbers and dates hold for people. "The state might be occupied with numbers and recording things like that, maybe culturally what we need to be doing is recording what they meant, what those experiences are for us as a nation," he says, adding that this script is part of a larger project for Floating Space.
In 'My Other History' characters struggle with the need to reconcile themselves to a lost life, a landscape of the heart filled with people, places and things that have disappeared. In one instance, a character finds a roll of film and it becomes the only thing she removes from a house stripped bare by the army during wartime. For Jake, her attempts to use the pictures to show her son something of the life that was is a clear attempt to reconcile herself to her loss. "For me that encapsulates from a very personal point of view, the idea of reconciliation," he says, adding that the plays emphasis on relationships reflects his belief that reconciliation must begin on a personal level.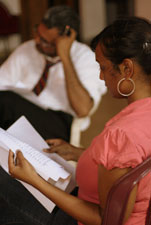 Though the focus is more on the community in Tracy's play, the fact that the community is far from homogenous and is made up of individuals with their own perspectives is emphasised. Though this is the first time that Tracy is working with a predefined theme, she is clear that her intention is not to provide a definitive solution to the problem of reconciliation, but instead to ask if it is even possible. "I'm not a sentimentalist," she says frankly, explaining that she knew she wanted her play to focus on how and why her fictional conflict began. Along the way it would explore essential points like the challenge of piecing together a single history out of different perspectives, the impossibility of an unbiased narrative, the repercussions of violence on a community and the need for a pragmatic look at what reconciliation must entail.
Co-directed by Arun Welandawe-Prematilleke, 'Rondo' is set in a town where "everything looks perfect on the surface, but underneath it's really quite dysfunctional." Once a thriving community that welcomed strangers, the town closes its doors in an effort to prevent the violence it believes outsiders bring with them. Twenty five years later, a stranger arrives to find the town in a state of atrophy, with its people seemingly frozen and unresponsive. He is able to begin communicating with them and very quickly finds that various quirks prevent them from doing the same with each other. Rondo's unreliable narrators further challenge the idea of a single truth. "The whole play is based on one story but it's all these people's versions of this one story...every one of those narratives is personally skewed in a particular direction," says Tracy. Once more the town finds itself faced with difficult choices. Will they allow history to repeat itself, or will they look for a different solution?
As with Mind Adventure's last production 'The Travelling Circus', 'Rondo' is also a piece of devised theatre, and will employ mime, mask, puppetry and live music to present a non-linear narrative. Reflecting, Tracy says "The Travelling Circus was very text based. Here we have started from a single word. That has been the challenge...trying to articulate this big concept in a simple way."
Sunethra Bandaranaike herself seems pleased that the two performances are so distinct in their approach. The Trust she established in 1995 has supported the work of performance artists with small grants for over a decade now, but she says increasingly disappointing applications forced the Trust to reconsider their approach. After having held off for two years, they decided to invite two promising theatre troupes to perform and to share the accumulated interest from the fund between them.
"In the post-conflict situation one of the very urgent needs of the day is reconciliation," Sunethra says of their choice of theme. She wanted the companies to use their imagination and varied techniques to approach it, but says the Trust does not actively involve itself beyond awarding the grants. With her today is another trustee, Paikiasothy Saravanamuttu. The two share a great love for good theatre and it gives them great pleasure to see the money put to such creative use. They say the Trust will consider extending a similar invitation to another theatre company next year but that their focus might be on performances in Tamil and Sinhala.
---
My Other History: The cast comprises Ruhanie Perera, Thushara Hettihamu and Freya D'Almeida. The play will be staged from April 7-10 at the Park Street Mews Warehouse from 7 p.m. onwards. Tickets priced at Rs.500 and Rs. 400 are available from March 31 at Park Street Mews and Punchi Theatre.
Rondo: The cast comprises Tracy Holsinger, Arun Welendawe-Prementilleke, Tehani Chitty, Subha Wijesiriwardena, Brandon Ingram, Ruvin de Silva, Venuri Perera, Benjamin Aluwihare and Kimaya de Silva. The performance will be staged from April 7-12 at the Punchi Theatre beginning at 8:15 p.m. Priced at Rs.500 and Rs.600, tickets are available at the Punchi Theatre.