Sri Lankan expatriates abroad who have their commitments here need not worry or be concerned about their loved ones or property anymore. This is the service that Caring Hands Lanka, a recently launched company undertakes - providing property and personal management as well as a range of other services.
Run by an experienced management team representing diverse fields, the objective of Caring Hands Lanka as its motto suggests is to 'make life worth living' for Sri Lankans in any part of the world who have commitments here.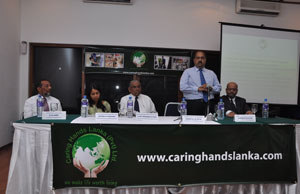 Announcing the launch at a news conference
Founder and Managing Director of Caring Hands Lasantha de Silva said it all stemmed from his own experience where he had to face many difficulties in getting things done where his property and loved ones in Sri Lanka were concerned when he was away in Canada over the last 21 years.
"In addition to looking after the interest of the expats, with the growing number of senior citizens in Sri Lanka whose children live abroad, we felt there was a need to cater to them too," he said.
Among the quantum of services offered are taking care of day-to-day matters of the client's family or friends from attending to their personal and health care needs such as taking them to the doctor, therapist, beautician or even for events and functions they needed to attend.
In addition, managing the property of the client - renting, maintaining, buying or selling residential, commercial or plantation property, real estate development, assisting with legal and financial matters including stocks and shares, travel management during their visits, arranging tours, visas, air tickets, airport transfers etc., are some of the services provided. Managing special events in Sri Lanka be it a wedding, product launch, funeral or reunion, is also another area covered under this unique concept..
The company also undertakes to see to daily needs of the elderly (even if they do not have their children abroad). This covers purchasing groceries, payment of utility bills, banking, delivery and collection of laundry, medicine etc, collection of gas cylinders, basic plumbing and electrical work etc.
Remarking how senior citizens find it difficult to manage such daily chores, Mr. de Silva said he had on many occasions come across old persons saying they want to die soon but his intention, through Caring Hands, is to help them feel "life is worth living," he said. All services can be obtained through Caring Hands for a nominal charge, he added.
More details can be obtained through www.caringhandslanka.com or via 2682764.