The hands and feet are clawed. Sometimes fingers and toes have been amputated, but the spirit is strong. Aiyo Thaththa ne neda, cries a woman with her face crumpling up for a moment, as she hobbles up to us, but gives a toothless smile and says, Eth putha innawane, and asks for a few rupees to eat hoppers.
Yes, the nurturer is no more, but the succour and support extended by his organization live on – this is what is evident when the Sunday Times visits not only the Leprosy Hospital at Hendala but a few homes in that area as well as Mattakkuliya.The "lifeline" for those living with leprosy and their families has been SUROL set up by Fr. Realino Chiriatti way back in 1971 and nurtured and brought to what it is today by Fr. Glen Fernando, now deceased.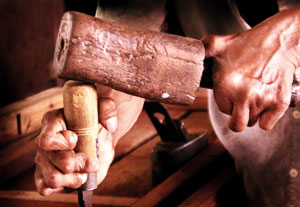 SUROL helped Ananda launch his own carpentry business. Pix by M.A. Pushpa Kumara
The Society for Upliftment and Rehabilitation of Leprosy Affected Persons is the only non-governmental organization committed to serving and helping those with leprosy and Hansen's disease and their families, explains Programme Manager Aloy Joseph explaining that its network is spread around the country from Kandy to Jaffna, Polonnaruwa to Batticaloa and Bandarawela to Mahiyangana.
Although set up by priests of the Catholic Church, the two questions which never arise are: What is your race and What is your religion, the Sunday Times understands, with SUROL encompassing anyone and everyone under its wing. Even a Veddah leader who died recently has been a beneficiary, says Mr. Joseph to show the extent of the reach of SUROL, the approved charity dedicated "for leprosy and leprosy only".
No proof, however, is required, for the chat with the woman at the Leprosy Hospital that SUROL representative G.S.S.Terrance has is adequate to convince any non-believer. Times and along with them the thinking on leprosy have changed, the Sunday Times learns, as some members of SUROL's Board of Management earlier meet us at its office past the Jathika Pola at Elvitigala Mawatha in Colombo 5.
Visions of people with leprosy, stigmatized as "lepers", shunned and isolated from human habitation are dispelled. "Earlier, even in Sri Lanka they were either confined to the Leprosy Hospital at Hendala or the leper colony on Manthivu island where the Franciscan nuns used to look after them," says Mr. Joseph.
No more, the Sunday Times learns. Now not only is leprosy treatable but it is also curable, with a majority of those affected by this disease living in their homes with their families in the community.
There is only a handful at the Hendala Hospital and they don't have a place to go to, says a Board Member who declines to be named.
The stories of SUROL's activity are discussed at length…..the carpenter whose feet are gone but does intricate work with his clawed hands whom this society helped to come up in life; how Fr. Glen found another person in Badulla whose toe nails were being nibbled by rats (when affected by leprosy, the person loses sensation in that part of the body); and how in another instance the patient was pouring kerosene oil into the wounds to keep the worms away.
Pointing out that leprosy is usually a disease linked to poverty, Mr. Joseph says that SUROL has on its "register" 295 families. Some get a monthly disability allowance or family sponsorship, child sponsorships, to start self-employment projects, to build a house or buy domestic needs and also medical aid.
When the Sunday Times meets 60-year-old Ananda Bandara at the Leprosy Hospital he is hard at work in an abandoned building, crafting intricate pieces of furniture for sale. Afflicted by leprosy at the tender age of 16, he didn't realize it until debilitation and disability hit.
It was only then that he was diagnosed with leprosy and sent to Hendala, later moving to Manthivu. When he found the love of his life, he decided to settle down at Piliyandala. He was discussing these prospects with the then Director of the Anti-Leprosy Campaign, Dr. G.S.P. Sabapathy at Ward 21 of the National Hospital when he met Fr. Glen.
"Find a piece of land and we'll build a home for you," Fr. Glen had promised him and when a nun gave him a piece of land, that promise was fulfilled. For Ananda, there was no turning back thereafter. He set up his carpentry business there and fed and clothed his family. "Now my children are adults," he says, explaining that SUROL supported him to launch his business, showered them with gifts during Christmas in December and New Year in April.
"We are what we are today because of SUROL," he says emotionally with unshed tears glistening in his eyes. "They have been by our side during sickness and trouble." When he developed a wound on his leg a few years ago he came back to Hendala, visiting his family on and off, earning a living by selling furniture. The kindness of SUROL is passed on by him to others -- he mends the shoes and slippers of patients here free of charge.
When we visit Dayaseeli Peiris's home, her husband has gone in search of work, her son to school and her daughter to pre-school. As she welcomes us, her gait draws attention to the fact that she is walking on two artificial limbs. Adjoining her tiny home is another small structure, built by SUROL, so that she could rent it out and earn a regular income.
Many are the tales about the good work done by SUROL – a mother and son at Hendala and a young family at Mattakkuliya devastated by the fact that the wife too has just been diagnosed with leprosy, whereas earlier it was only the husband who had it."Even my immediate family is unaware that we have leprosy, she murmurs, adding that it is a "secret" among the couple, the doctors and SUROL.
That says it all – SUROL seems to have become an indispensable part of those living with leprosy.
(If you wish to support SUROL in their silent service towards people living with leprosy and their families, you may contact the office at 354/14, Elvitigala Mawatha, Narahenpita, Colombo 5; Phone: 011-2503929; Fax: 011-2503263 or E-mail: surol@vinet.lk or surol71@sltnet.lk. Donations in the form of cheques drawn in favour of SUROL may be sent to: Commercial Bank, Borella branch Account No. 1201103401)
Kelani River intruding into hospital premises
Quiet flows the Kelani, past Hekiththa, as it has meandered for hundreds of years to the sea. It was this same river that brought with the shadows of night, those afflicted with leprosy, shunned those days by society, to be admitted to hospital.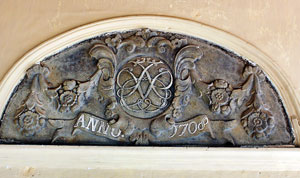 The VOC emblem on the facade of the hospital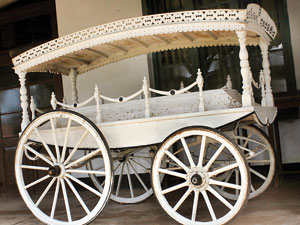 Finely carved carriage used to transport the bodies
The Leprosy Hospital at Hendala, with some buildings over 300 years old, sprawling across six acres of land is facing a different kind of threat. Slowly and surely the Kelani is eating into this valuable land, the Sunday Times understands and efforts by the staff to stem its progress are becoming futile.
The river-intrusion is close to a simple building erected way back in 1708 which is believed to have been the "admitting office" for patients ferried across the river. Already about four metres of land have been claimed by the inexorable march of the Kelani, a staff member says with regret.
This is the very same building which proudly displays the VOC emblem, as the hospital had been set up by the Dutch after having found a group of people afflicted with leprosy in the city of Colombo. According to some details on the history of leprosy prevention activity given by the hospital, official records of such measures go back to 1685.
It is also believed that the first Leprosy Hospital in the whole of South Asia had been the one at Hendala. In the same building that was the admitting office is a safe built into the wall with a massive handle, while parked in the verandah of another are two finely carved "carriages" used to cart away the bodies of the dead – one for Buddhists and the other for Christians.
In those early times when the only "treatment" for this infectious disease, as opposed to now when it is not only treatable but also curable, was confinement at the hospital, the inmates spiritual needs had also been looked after with the establishment of a Buddhist temple and a Catholic chapel. The Hindu kovil has now been moved to a bigger location, the staff member said.
Meanwhile, the building with bars and all which housed the 'difficult' leprosy patients is part of a school set up in more recent times, with children taking their lessons and walking around oblivious of its history.