Despite a new regulation that will be introduced to inspect the percentage of the unexpired shelf life of imported food items when entering the country, health authorities request the public to be on the lookout for expired food items, whether they be imported or locally produced.
The regulation "Food (Shelf Life of Imported Food Items) Regulations 2011" which will come into effect from August 1 this year, will require that all items of food imported, shall, at the point of entry into Sri Lanka, possess a minimum 60% unexpired shelf life.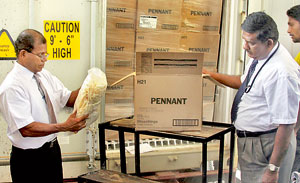 Food items being checked at the container terminal in Orugodawatte.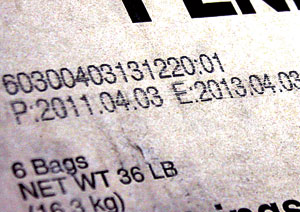 Package showing date of manufacture and expiry date
Assistant Director- Food Control Unit, Ministry of Health, Tilakaratne Haputantri said, "Following complaints from the public, Health Minister Maitripala Sirisena, in consultation with the Food Advisory Committee, decided to introduce this regulation to stop importation of food items that are close to expiry dates."
"We also found that many expensive food items imported into the country, do not have satisfactory nutritional value, flavour, texture or appearance," he said.
Among the most commonly imported food items are milk-related food, especially infant milk-food. Others include meat and fish products, food supplements, dry rations including dhal, onion and potatoes, chocolates and other confectionary items, pasta, canned and fresh fruits and the latest and most popular addition, pre-cooked or ready-to-eat food.
"The trend for importing pre-cooked food is increasing, and this requires extra care, as these foods are prone to fungus and bacterial attacks," he warned.
According to the regulation, "shelf life" means the period between the "date of manufacture" and "date of expiry"—when the product is considered safe for human consumption or usability by the consumer. 'Date of expiry' can also be substituted with, "expiry date", "best before", "use by" or "use before" or other similar phrases which convey this meaning, and are used by a manufacturer of any food item local or imported into Sri Lanka.
Under the Food Labelling and Advertising Regulation of 2005, expired food items are prohibited for sale. However, the lack of trained Public Health Inspectors (PHI), Food and Drugs Inspectors and Medical Officers of Health (MOH) has put the consumers at a greater risk.
"Consumers should be vigilant when purchasing imported/locally manufactured food items. If they feel there is something odd in the taste, aroma or texture or if the item looks 'expired', the nearest PHI's office should be informed," he said.
The country has only 1,900 PHIs, 350 MOHs and two to four food inspectors in each district. "There should be more than 2,500 PHIs and at least 20 food inspectors for each district. Apart from food inspection, these people are also involved in school health, dengue, filarial, TB, communicable and non-communicable disease campaigns, projects and awareness programmes," Mr. Haputantri said.
Chief Medical Officer- Colombo Municipal Council (CMC), Dr Pradeep Kariyawasam said this regulation will also curb the imports of food items that are close to dates of expiry are sold at a lower price. However, if the authorities fail to train more officers to deploy for inspection, expired goods will continue to remain in the market.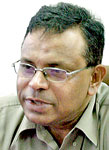 Tilakaratne Haputantri
"Once the products enter the market, it is a difficult task to inspect them. Therefore it is important that entry points are strengthened with more PHIs and MoHs," he said.
The largest number of supermarkets, pharmacies and food outlets in the city come under the CMC, and as such although there is a need for 58 PHIs, there are only 33.
There is also a need for 12 food inspectors but there are only four and unfortunately, may of the MoHs do not have experience in the field of public health, Mr. Kariyawasam said.
"We continuously receive complaints on expired food and beverage from the public. It is important to check the batch, manufacture and expiry dates, cover, packaging, texture, and if it is a transparent bottle or jar, look at the inside carefully before breaking the seal," he said.