Road traffic accidents account for the majority of sudden deaths recorded by the Chief Judicial Medical Officer, Colombo. Most of the post-mortems conducted by the Institute of Legal Medicine and Toxicology (ILMT) relate to accidents, and more than 50 per cent of these are the results of road accidents. There has been a significant increase in such accidents since the beginning of the year. On average, 600 medico-legal examinations are conducted each month, of which around 350 cases are caused by road traffic injuries.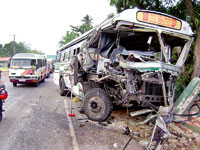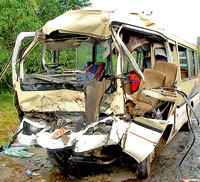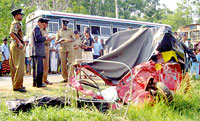 Speeding, carelessness, and recklessness result in daily accidents that often cause fatalities.
"There is an alarming increase in the number of injuries and deaths from road accidents," Dr. Ananda Samarasekera, Chief Judicial Medical Officer of Colombo, told the Sunday Times. During the long years of the war in the North and the East, war casualties tended to overshadow and grab the headlines more than road accident casualties, Dr. Samarasekera said. Now, since the end of the war, the media is able to give greater prominence to the deaths occurring on the roads.
The Institute of Legal Medicine and Toxicology is compiling a report for the Ministry of Health on the incidence of road traffic accidents, comparing annual figures. The study will also compare these figures with statistics on injuries and deaths caused by the war. Surprisingly, drunken driving, once considered the main culprit in road accidents in Sri Lanka, is not always the chief suspect in accident reports.
"Drunken driving has always been one of the leading factors in road accidents, but no special significance attaches to drunken driving. Many of those injured and killed are pedestrians," the Chief JMO of Colombo said. Recklessness and risk-taking on the part of road users is the main contributing factor, as revealed by medico-legal examinations.
Dr. Samarasekera said pedestrians and drivers were both indifferent to road rules and regulations, adding that road users, notoriously "undisciplined", were largely to blame. "The road rules are in place to benefit everybody. Our pedestrians are often careless and reckless. They believe that they come first, and expect the motorists to think the same and make way for them at every turn. That's why there are so many accidents," Dr. Samarasekera
But motorists and vehicle owners are also culpable. There is an excess of cars, motorcycles, vans, trucks and buses on city, suburban and rural roads, and speeding is the order of the day for the majority of drivers in this country. Dr. Samarasekera said law enforcement on the roads was inadequate; an efficient, 24/7 system should be in place to monitor road usage and enforce the law.
The JMO pointed out that in many parts of the city unauthorised structures, including wayside shops, have been cleared so pedestrians can use the roads safely, but even now they tend to step on the road, instead of keeping to the pavement.
"The problem becomes especially acute during festival season, when stalls and decorations are set up on pavements and roads. These interfere with pedestrian and vehicular movement, and cause traffic jams and congestion. If decorations are put up, separate arrangements should be made for road users. Political rallies and meetings also disrupt the road system. In the case of public meetings, a solution would be to hold these events in playing fields or public grounds, with minimal disruption on public roads."
Accidents on roads outside the city often occur when drivers, driving for hours along long stretches of road, experience fatigue and lose grip or fall asleep at the wheel. The phenomenon of "suicide driving" is another aspect of the recklessness and irresponsibility demonstrated by drivers. When someone is under stress and takes possession of a vehicle, that person could be highly dangerous on the roads. Heavily stressed out people, those overwhelmed by their emotions, may have suicidal or murderous thoughts, and the vehicles they steer could potentially be killing or maiming machines.
"We have come across such cases, but they are difficult to identify. Mental stress is very high in this country. This is certainly another matter to be factored in when assessing the safety levels on our roads," Dr. Samarasekera said. Those applying for a driving license must submit a medical certificate attesting to their mental and physical fitness to use the roads. These medical certificates should be scrutinized for authenticity, especially for owners of heavy vehicles.
The victims of road accidents also include maimed and disabled persons, Dr. Samarasekera pointed out.
26,607 accident victims in a space of 12 weeks
Accidents of all types – including home accidents – are on the increase, according to figures from the National Hospital of Sri Lanka (NHSL), Colombo. The categories of accident are many. They include road accidents, train accidents, home accidents, medical accidents, occupational accidents, falls, accidents resulting from violence, such as bomb blasts, gunshots and stabbing injuries, as well as homicidal and suicidal actions.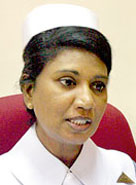 Triage Nurses Team leader, Ms. Pushpa R. Zoysa
In the last three months, a total of 26,607 persons have received treatment at the National Hospital. Of these, 78 per cent were caused by accidents, and 12 per cent were caused by road accidents, said Pushpa R. Zoysa, Training Co-ordinator and Triage Nurses Team leader of the National Hospital.
The victims of road accidents were largely between 20 to 55 years of age. In May, 184 vehicle passengers and 177 pedestrians suffered injuries.
There has been a high concentration of road traffic accidents in recent months, and a distinct increase in May. Injuries and fatalities resulting from falls accounted for the highest number of accidents – 18.6 per cent. "We need to raise public awareness of safety in order to reduce the number of accidents," Ms. Zoysa said.
The Sunday Times spoke to victims of both road accidents and falls who were patients at the National Hospital. On May 30, motorcyclist S. W. I Anuranga, 23 years, of Athuruguriya was heading home after work late that night when he fell asleep and crashed his cycle.
"It was around 11.30 pm, and I was really exhausted. I know all the bends on the road, and I closed my eyes for a moment,. The next thing I knew I had crashed my bike. One leg is badly injured, I am unable to walk," Mr. Anuranga said.
Patient Mr. Kitnasamy, 35 years, a resident of Warakapola, fell off a king coconut tree while picking nuts. He has spent the past eight months in bed, recovering from a shattered hip bone."I earn my daily wage picking coconuts. I have not been able to support my family since my accident," he said.
| | |
| --- | --- |
| | |
| Anuranga hurt in a motorcycle crash | Bread-winners like Mr. Kitnasamy may spend months in hospital recovering from injuries. Pix by Athula Devapriya |