Anton Marcus with the Free Trade Zone Workers Union charged that the authorities have now brought out the army to stifle legitimate protests by the workers angered over the death of a colleague.
Hundreds of enraged workers who took to the streets to protest the FTZ slaying were held back by heavily armed personnel from the Special Forces.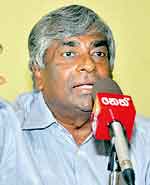 Anton Marcus
The workers waving white flags to mourn the death of their colleague were blocked at several fronts by a cordon of security forces personnel, Mr. Marcus added. He further called on the authorities to pay Rs. five million as compensation to the family of the slain factory worker. "This is the least the state could do to a poverty-ridden family which must now cope with an irreplaceable loss," he added.
He said that this loss of life could have been prevented if the Government had withdrawn the proposed pension scheme at the outbreak of the protests. "Instead of doing this they are now insisting on bringing a new bill with amendments and suggestions from all stake holders in the sector," Mr. Marcus said.
He vowed that the protests will go ahead and it will be backed by a cross section of trade unions both affiliated to the government and the opposition and it will take more than 'just' bullets to stop them. He added that the government does not want to accept the fact that this is a genuine workers' uprising not backed by any political force.
Mr. Marcus said that several international trade unions have already picked up the developments in Katunayake and elsewhere and there are moves to raise the matter at the current sessions of the International Labour Organisation (ILO) being held in Geneva.
"Although we have been told that the Government has scrapped the Private Pension Scheme, the state cannot be trusted and we must be alert at all times," Mr. Marcus added.